---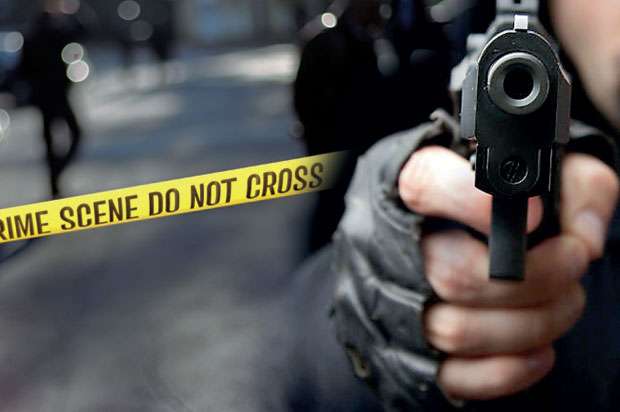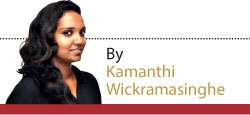 Bloodshed became a common occurrence with the 30-year ethnic conflict that ravaged the island. However, eight years after the war has ceased, the local gun culture still exists. Since January 2018, Sri Lanka has experienced the heat of the underworld with several incidents being reported in Colombo and the greater Colombo areas. Shootings among rival factions to gain territorial monopoly over narcotics and businesses such as sand mining is now common in the country.
As much as dealing with weapons has become a lucrative business, the 30-year conflict too has contributed to this influx of weapons used in the underworld. The Special Task Force, affiliated to the Police, has taken an upper hand in controlling this menace and so far has been successful in taking several noted criminals into custody and for further questioning.
Hence, the Daily Mirror spoke to a few individuals of varied expertise in an attempt to shed light on factors that have contributed to this menace and certain penal provisions described in the Firearms Ordinance.
A country flooded with arms
In an interview with the Daily Mirror, Major General Udaya Perera, ex-Director Operations of the Sri Lanka Army and the ex-Security Forces Commander in Kilinochchi and Jaffna said that this situation is common in any country that has faced turmoil like Sri Lanka. "We were a country that was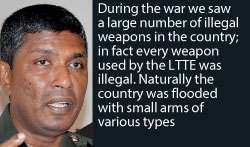 challenged by a hybrid terrorist organization. They collected huge amounts of money to buy war-like equipment; from these small arms were the majority and they were able to buy them from around the world and from corrupt Government officers of other countries. They also captured arms from the Sri Lankan and Indian military. So they had a large arms capturing system,"said Perera.
"Secondly when we were fighting the war, the Government of Sri Lanka in good faith gave some arms to border villages," he continued. "During the war we saw a large number of illegal weapons in the country; in fact every weapon used by the LTTE was illegal. Naturally the country was flooded with small arms of various types. Even before the LTTE era, such as during the JVP riots, they also had locally manufactured weapons etc.
So these weapons were freely available and I don't think anybody has a record of this. We were fighting with a non-state actor who wasn't adhering to universally accepted rules and regulations, so there were no registers. Therefore the guns were freely available and even today there may be arms catchers who may have hidden their weapons under rooftops, ceilings, water tanks and other places. The weapon business is a lucrative one and due to economic reasons people are tempted to sell weapons and get some extra money. With this environment it is a natural phenomenon and handling this situation is an issue," he stressed.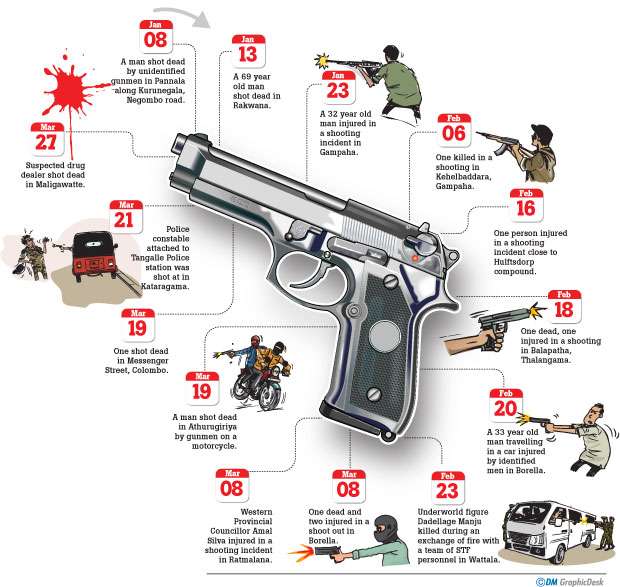 'Securitisation' as a solution
According to Maj. Gen. Perera the country should have a short, medium and a long-term plan to handle this situation. "Sri Lanka is a country where we have all the agencies in place," he said. "The issue is how to bring these agencies together through a coordinated effort. We did that beautifully to defeat terrorism and when an issue of this nature emerges it's a threat to national security. Generally there is a concept known as securitisation; similarly to how we securitized the entire country, agencies and line ministries to defeat terrorism, during a conflict like this it is important to securitize the issue as well as the agencies. As for a short term plan we have to give incentives, which we have done a couple of times so that these guns can be surrendered and people can come out and give information.
But all the weapons cannot be taken through this approach. Therefore there has to be a medium term plan where you bring in all the agencies on a coordinated fashion. Here, the intelligence agencies have a huge role to play. They should be strengthened to obtain information regarding these types of weapons because it is a security threat. Then other agencies such as line ministries, military and the Police should be brought in to fight this menace. In a country like this the society too should be linked to this process. We are hugely influenced by the clergy of Sri Lanka, irrespective of religion. They work in groups and they too should be linked because there's a morality factor associated,"he said.
Role of academics and think tanks
"In the case of US there's a huge difference," he further added. "In the US the weapons are legalized and when they start killing innocent civilians, the society comes together as one and they are vociferously involved in anti-gun culture activity. But in Sri Lanka the society would not come forward because they don't target innocent people here. The targets are rival factions and the society is evasive, silent and turns a blind eye to such incidents. The Government has to be effective and get the society involved. But in this situation, violence shouldn't be seen in the governing sector. The long-term solution in terms of securitization is the role that has to be played by think tanks and academics. In the West, think tanks such as the Institute for National Security Studies and universities are encouraged to do research. Up to now I have not seen any research being done on this sector.
Therefore research needs to be done on how we could control this situation and the Government too has to be involved in this research. Here, we also need to get the non-state actor involved because its registers are not with us and therefore we need to do a proper assessment and see how many weapons were actually there in Sri Lanka. Each weapon which was there with the non-state actor is an illegal one and we also have to see how many weapons the Government had distributed in good faith in order to safeguard the lives of the people. Generally we believe that there are around 850 million weapons in the possession of people in this world. Out of that about 600 million weapons are possessed by civilians. These numbers are increasing daily and in our country too there has to be a fair number due to the conflict," he underscored.
Threat to the economy
If this issue isn't resolved, it would remain as it is. "The economy also has a role in national security," said a concerned Perera. "When we talk about security it isn't only about the military, the Police and the judiciary. The economy, environmental, communication and societal sectors too have an active role to play in terms of national security. If the economy is stable, the rate of crime will drop. We are a small country and need to have a system of identification for every citizen. Security could be tightened to such a level, so that every citizen should be responsible and the intelligence services should be able to monitor all citizens without any hindrance and without disturbing their privacy.
Security is very important for a country to develop. If banks are being robbed and people are killed on the street then investors would desist from investing in the country. When there's a conflict with a non-state actor, nothing is recorded and this is done on purpose. Other sectors revolve around security and it should be encouraged at an academic level as well. Think tanks should also do research on the subject. This is why I said that the Government should securitise the issue. In good governance you need to have a coordinated effort between agencies and these agencies should know what each other is doing. This is usually done in other countries by the National Security Council and its secretariat," he added.
In his concluding remarks, Maj. Gen. Perera said that Sri Lanka is not a banana state. "It has all the agencies in place. If we didn't have that coordination we may not have defeated the LTTE. Our intelligence and other agencies should be strengthened to such a level that they should be motivated to have innovative and coordinated action. Bureaucrats should be professional and they should be decision-makers. This is not a difficult task in Sri Lanka. If the military community is made vulnerable there are extremist elements that would be there to grab and take them to their side. Therefore the Government should always keep the military with it and this is how the larger military community should be managed,"he explained.
All people killed in recent shootings were noted criminals: STF
In his comments to the Daily Mirror, a senior official attached to the Special Task Force said that so far 19 incidents have been reported. "The last shooting took place in Maligawatte and we have been able to solve four cases already. Suspects seem to be evading arrest and we have organized our teams to do mobile day and night patrolling in Colombo and the greater Colombo area. During our search operations we have been able to take in more than 16 noted criminals for questioning and have also recovered several weapons and narcotics including heroin. After March 27 we haven't seen any incidents, but we are continuing our operations," the official said.
He further said that one significant highlight in these incidents was that all those who were killed were noted criminals. "They all have had criminal records and most incidents are shootings between rival factions. They try to kill the other in businesses such as sand mining and gain territorial monopoly. This is the same in narcotics. The weapons used were those that were robbed and although there were 19 incidents only two to three weapons have been moved around. Search operations are currently underway and the STF is fighting to eradicate the fear of crime in the city," the official further said.
An insight into the Firearms Ordinance
President's Counsel Tirantha Walaliyadde, who has appeared for cases involving Soththi Upali, Chinthaka Amarasinghe, Dhammika Amarasinghe and currently representing the person who is alleged to have shot Dhammika Amarasinghe inside the Magistrates' Court Complex, explained certain deterrent penal provisions covering the illegal possession and the use of firearms in the Firearms Ordinance. "The possession of an unlicensed gun entails a five-year jail term for a first offence and/or fine; for the second offence the penalty is ten to twenty years' in jail. The possession of a repeater shotgun or an automatic gun provides a mandatory life sentence. The possession of a 'gal kattas' entails a five thousand rupee fine and a second and subsequent offence, to ten years in jail and or/ rupees ten thousand fine. All these provisions also cover having custody of such a weapon as distinct from possession. Custody means control and not necessarily immediate possession.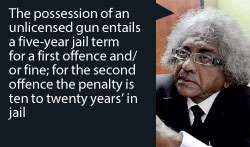 Speaking further Walaliyadde said that the use of a gun to commit offenses set out in Schedule C and D entails a life sentences and fines or fifteen years and fine respectively. Therefore, anyone who keeps a gun in his premises or possession on behalf of another runs the risk of prosecution for possession. The burden of proving that the gun is licensed is on the person who is charged for possessing a weapon. This is so with other activities requiring licenses. In cases where life sentences are prescribed bail can only be granted by the High Court under exceptional circumstances.
A 'Peace Officer' includes any police officer and any Grama Niladhari appointed to perform police duties. Any peace officer, Grama Niladhari, or any revenue or judicial officer, or any other Government officer authorized in writing by a Superintendent of Police may arrest without a warrant any person possessing, carrying, or using an unlicensed gun. Any SSP or other officer authorized by him in writing or any Grama Niladhari or peace officer may enter and search all premises of any person suspected of possessing, making, selling, or repairing guns without a license. This includes any vessel, boat or conveyance. In a nutshell any person entitled to or authorized can search any person suspected of possessing unlicensed guns, or enter and search any premises or vehicle suspected to contain unlicensed guns and take the guns into custody and arrest without warrant any person connected thereto," he said.
According to Walaliyadde, the assembling of any parts to form a gun comes under 'manufacturing' of guns. "The importation, manufacture, possession, repair, sale, transfer of a gun can only be done by virtue of a license issued by the Defence Secretary. If not, the culprit is guilty of an offence and is liable to the respective penalties and punishments as prescribed in the Act. Proof of license is on the person charged. The guns concerned in any offence under the Firearms Act are liable to confiscation subject to the owner's claim of bona fides if the offence is committed by someone else. The sale of cartridges is also prohibited unless the purchaser produces a valid gun license," he said.
The above contents are simplified explanations of the Firearms Act and its practical aspects as relevant to the present day crime trend and are not meant to be quoted in any court of law. However, this article does not cover the entirety of the Act. In his concluding remarks, Walaliyadde said,
"As another matter of comment, it is my considered view that the only way to curb and deter this spate of underworld violence presently scorching the country is to reactivate the death sentence following a review of the conviction by the Supreme Court, where contract killings are concerned."