---
My father was a gentleman, gentleman-cricketer, gentle and kind, and a genius in his own way.
Born in an era when family traditions, values and noble deeds were the hallmark of family life and societal norms, my father grew up in a milieu of cousins, friends and playmates who spent their time in the vast outdoors; playing cricket, bathing in rivers and the sea, plucking fruits off trees, that they'd climb on and catching fish.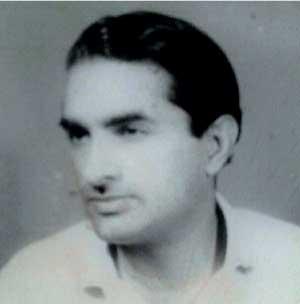 Born in the year 1939, to his father Walter and mother Princess in her ancestral home of Molligoda Walawwa, he was afforded the best education at the 'best school of all' – Trinity College Kandy. Here he excelled in cricket, being bestowed the coveted 'Trinity Lion' in 1959.

His forte was pace bowling and he had many a schoolboy scalp to his credit. He also played rugger and featured in two Bradby Shield encounters, and was a Presidential Scout. The young scion of a Ceylon of a different vintage enjoyed his school-life to the maximum, and balanced sports and academics, winning the coveted Christopher Jayawardene Memorial Scholarship for the best all-round student.

Having reached the top rung in school, he entered the University of Peradeniya where he graduated with an Honour's Degree in Economics. He had a checkered mercantile career spanning Schweppes, Browns, and Cornel & Co, and last served at the Organization of Professional Associations as its Centre Director.

As children, my brother and I would listen to interesting stories from Trinity, Kandy and Peradeniya University. (My favourite was how he left a rug outside his room door at university for a dog to keep her warm!) He loved dogs unconditionally, though horses were his passion. Our childhood was colourfully littered with a plethora of dogs and cats that lived with us.

My father was kind and loving, and generous to a fault. He was always there to lend a helping hand to the less fortunate, and speak a kind word to everyone he encountered.

We had many childhood adventures with him: be it exciting train trips, short bus rides, long holidays and happy family functions especially during Christmas. My father had a lovable and gregarious personality, a heart of gold, a mischievous streak, and a love for humanity that transcended societal labels and taboos.

He was a Christian who embodied Christ's forgiveness of humanity on the cross, epitomizing the adage: 'Do not have aught against any.'

At the end of his life, his beloved school motto – 'Respice finem' (Look to the end), – made him realize that his Lord and God was calling him to his real home.

He was the most kind and loving father a girl could know. He loved my mother and brother a lot, but I knew he loved me a little more. Thaaththi, you are in my heart, dimples and all! I know we will meet again on a fairer shore.
Sharlene De Chickera