---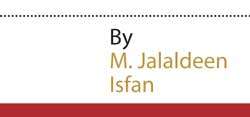 With the first sighting of the moon for the new month of Shawwal, the Muslims here in Sri Lanka will celebrate the Ramadan festival upon the completion of 29 or 30 days of fasting. They engage in various religious observances and rituals on this special day, with the foremost being performing Fajr prayers, taking a shower, donning new clad and applying perfume before setting out to the mosque for Eid prayers.
This festival is indeed an opportunity for the followers of Islam to express gratitude to Almighty Allah for giving them the will and strength to fast during the holy month. Muslims strongly believe that unless for the mercy and blessings of Almighty Allah, they would never have been able to accomplish the 30 days fasting in seeking His profound satisfaction and forgiveness. They assemble shoulder-to-shoulder in rows in an open area to offer their Eid prayer (Salathul-Eid) in congregation, which indicates the universal brotherhood and unity.
After prayers, they exchange greetings, and wish each other "Eid Mubarak" (Have a blessed Eid) with the traditional hug of comradeship. The Muslims generally feel at the end of Ramadan, the profound grief of being deprived of spiritual blessings associated with the holy month. Prophet Muhammad (PBUH) said, "If my followers were to realise what Ramadan really was, they would wish the whole year to be Ramadan."
Thereafter, they visit the burial grounds to convey salaams (greetings) and invoke the mercy of Allah and His forgiveness for the dead. While visiting the grave, one should say, "Peace be upon you, O people of the grave. May Allah pardon you and pardon us. You are forerunners and we are in your footsteps." This visit will urge the mankind to keep away from all forbidden nefarious activities and fun and frolic entertainment by provoking the spiritual thought of life after death.
They then visit their parents, relatives, acquaintances, family and friends and share the joy and happiness on this special day. It is mandatory in Islam to pay Sadaqadul Fitr (charity) to the poor and the needy before they perform the Eid prayer because Prophet Muhammad (PBUH) said no one should be in hunger on this special day of celebration and it is the duty of a Muslim to fulfil the aspirations of the poor and the needy, particularly at this unique moment of Eid ul-Fitr.
It is a common sight that every house is filled with sweets and delicacies which they serve among family and friends and lay a table with special foods in their homes. Muslims are also encouraged on this special day to forgive and forget any differences with others or grudges and animosities that may have occurred during the year. This noble act is preferred by Allah. It is reported that when Prophet Muhammad (PBUH) went to perform the Eid prayer, he used two different routes to go to and return from the mosque, with the sole purpose of meeting different people so as to share his joy and blessings on this special day.
This festival will extend for three days and people in villages will engage in traditional sports such as bullock cart, boat and motorbike races to enjoy this joyous occasion. People often grab this rare opportunity to invite their Sinhala and Tamil friends to enjoy a tasty lunch and sweetmeats which will pave the way for national unity among communities which is always highlighted in Islam.
Hence, let us all show our kindness to the less fortunate and enhance humanity to demonstrate our love of God.