---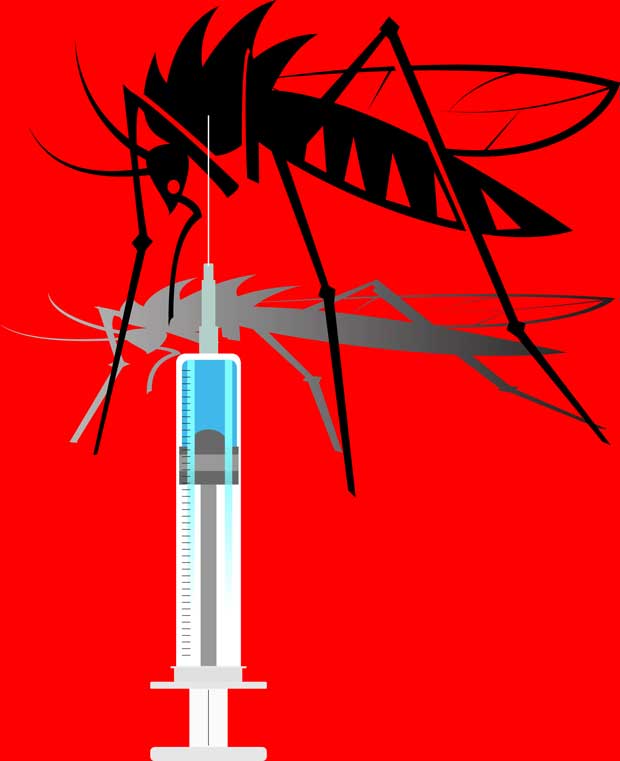 With dengue mosquitoes wreaking havoc in the lives of patients, it has become a tedious task in today's context to curtail the escalation of dengue mosquitoes in the environment. Despite the numerous Shramadana efforts and dengue awareness programmes being carried out countrywide, mitigating the dengue menace completely would be a dream come true. Since 'Prevention is better than cure', Dailymirror highlights a number of practical and effective, preventive measures to eradicate the mosquito menace as indicated by several experts.
An inventor comes up with a solution
According to the World Health Organization, the incidence of dengue has grown dramatically around the world in recent decades. The organization's reports on the disease revealed that the actual numbers of dengue cases is under reported and many cases are misclassified.

One recent estimate indicates 390 million dengue infections per year of which 96 million manifest clinically. Another study, of the prevalence of dengue, estimates that 3.9 billion people, in 128 countries, are at risk of infection with dengue viruses. The year 2016 was characterized by large dengue outbreaks worldwide. It's clear that the dengue is an epidemic beyond simple means of control, not only in Sri Lanka.

Former Deputy General Manager of the Ceylon Steel Corporation, Engineer Sarath Jayakuru is an inventor with a vision to rid the country of the disastrous dengue epidemic. His invention, a simple 'mosquito trap' won the Presidential Merit Award in 2001. However he laments that the simple, cheap and easy-to-make equipment that could have greatly alleviated households of this burden, has been ignored over the past 17 years. With the exception of a doctor from Kurunegala who endeavoured to make use of this invention in every school and household, the attention his 'mosquito trap' received has been insignificant. My invention isn't profitable, but practical, he adds. He shared his thoughts and innovative ideas with the Dailymirror , with the hope that health authorities, will take due notice and take his fresh approach forward in battling the deadly disease.

"So far the key theme in tackling this menace is based on a 'seek and destroy' approach of breeding places. This is no easy task and not practicable in sustaining over long periods. It seems that approach alone isn't effective, since dengue has risen to epidemic proportions and therefore needs more attacking fronts," Jayakuru said.

He lists out some logical ideas in the control of the disease, both short term (ST) and long term (LT) for serious consideration of those in authority, bold enough to think afresh and act differently.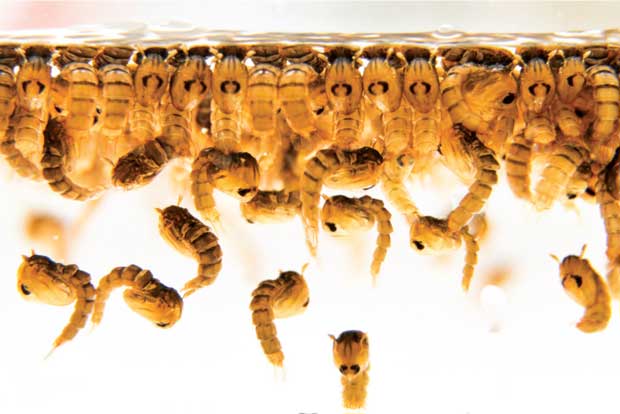 1) The first priority should be to prevent mosquitoes biting the infected patient either by isolation, covering with a net or applying a repellent lotion to the exposed parts of the body. A dengue patient is the real source of spreading the disease and not the mosquito as most people tend to believe. It only transports the virus to a healthy person. Netting used to cover bed etc, should be made duty- free, affordable and even given free to families with infants, as long term solutions. Making nets would be an added income to the rural folks and a double bonus to society. Repellents are presently very expensive and should be made duty-free or inexpensive. Citronella oil, camphor oil etc. should be given free to school children in affected areas. (ST)
One recent estimate indicates 390 million dengue infections per year of which 96 million manifest clinically. Another study, of the prevalence of dengue, estimates that 3.9 billion people, in 128 countries, are at risk of infection with dengue viruses

2) Fogging is a short term solution. However, this is disastrous to the eco-system even destroying the mosquito's natural enemy, the dragonfly. They are hardly seen at present unlike in the 60's and 70's when mosquitoes were not an issue. Now that the damage is done, it should be carried out on 4 to 5 consecutive days to completely wipe out the new mosquitoes that generate at various stages, from larvae left behind in the area. There is no sense in fogging just for one day since larvae are not affected.

3) Release of Dragonflies to the environment is a long term solution as they are the natural enemies of mosquitoes, in both adult and larvae stages. They are harmless to humans and should be specially propagated in large numbers and released. Once established, fumigation (fogging) should not be done.

4) Island-wide usage of the Mosquito (larvae) Trap (LT). This is a device that costs nothing which destroys the larvae indefinitely, with minimum of attention. According to Sarath Jayakuru, the viability of his invention is that it can be left unattended for prolonged periods, except in the case of traps kept inside houses which would have to be refilled occasionally to make up for evaporation. As for traps kept outside, they can be allowed to fill with rainwater, having been screened with a mesh.

5) Controlled killing of larvae, a short term approach involves keeping troughs of water in the open for mosquitoes to lay eggs. These troughs must be replaced with fresh water once a week on a particular day, eg: Monday, to make it a regular habit. The purpose of this is to destroy new generations of mosquitoes and also to prevent them from flying 2 to 3 km per day, in search of breeding places while spreading the disease in that radius . However Jayakuru opines that his invention 'the mosquito trap' is a safer alternative.

6) Release of 'Oxitec 're-engineered mosquitoes is another short term alternative. These are male mosquitoes produced by the million by 'Oxitec' a company developed by Oxford University and presently owned by a US company. The male mosquito mates with the dengue mosquito (Aedes Aegypti) to produce larvae that do not survive. Field trials done by Bill Gates Foundation and University of Sao Paulo in Camen Island and Brazil respectively, resulted in 80 to 95% reduction in mosquito population in 11 weeks. Successful trials have been done in Malaysia, Panama and in Florida in 2016. "Hadyn Parry re-engineered mosquitoes to fight diseases" on Youtube is a useful TED talk on the subject. Also search'Oxitec –Wikipedia' for more information.

Even though the main method to control or prevent the transmission of dengue virus is to combat vector mosquitoes, a fresh, adaptive and innovative approach is urgent to battle this buzzing menace. An active approach of monitoring and surveillance of vectors, as mentioned above should be carried out to determine effectiveness of control interventions, an approach we are yet to witness in reality, by local authorities tasked with tackling the disease.
---
Prevention of Dengue
Thinking out of the box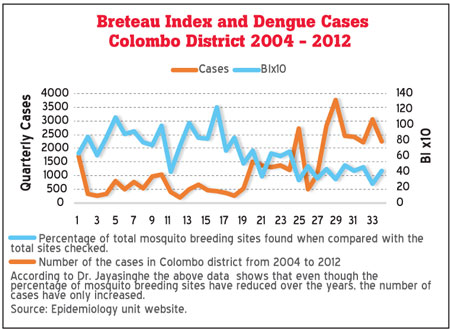 Is the strategy employed to fight Dengue, the fiercest enemy that the country is currently battling, successful? Even though the authorities are in denial, the fact that there's no significant reduction in Dengue despite all preventative measures being taken each day, the disease is spreading throughout the country like wildfire and can't be ignored. Speaking to Dr. Lal Jayasinghe, the Dailymirror explored the possibilities of whether alternate strategies can be used in the prevention of Dengue. It must be noted that the objective here is not to belittle the massive effort taken by hundreds of officials to fight this battle, but to open up our reader's minds to the alternate possibilities that might exist, which, combined with the current strategies, will improve the efficiency of the remedies.

The following are excerpts of the interview done with Dr. Jayasinghe, who served as a MOH in Sri Lanka on two occasions, once in 1960s and again in 1990s. He also worked in the Public Health Department of the Ministry of Health in 1990s. In between he worked in UK where his was associated with public health. His possesses the qualifications MBBS, DPH, MRCP.

Q What is the present strategy adopted by the government and why is dengue still skyrocketing despite all efforts?

The government's view is that dengue can be controlled only by eradicating mosquito breeding sites from environments close to homes. This strategy may have appeared sensible 25 years ago when we had few cases. In spite of the ever increasing number of dengue cases, the government hasn't changed its strategy at all. I have highlighted in my report to President Maithripala Sirisena, that although the number of mosquito breeding sites has dropped, dengue cases keep increasing. Does this not indicate that the strategy isn't working? viously the strategy isn't working and that's why the number of cases is rising daily.

Q Why should we focus on transmission of the virus itself?
Unfortunately in Sri Lanka, the impression has been created that the cause of dengue is the mosquito. This impression is further strengthened by the fact that when dengue is always mentioned in any media there's a picture of a mosquito. Dengue is spread by the mosquito acquiring the virus from a dengue patient, incubating for 8-10 days and infecting a healthy person by its sting. So the way to stop the epidemic is by breaking this chain. In other words, stopping the virus either getting into a mosquito and/or stopping the mosquito transferring the virus to a new person. It's the virus that causes the illness and not the mosquito.

Q Is this method feasible ? How?
Even though, on a yearly basis, there are thousands of dengue patients, if you take an average day in the year there are only a limited number of cases in the country. To give an example, until the end of June this year, i.e 182 days, there were 77000 dengue patients reported. Let's assume that the cases were reported on an equal and regular basis (this is of course not the way they are reported. But we will assume so to illustrate the point). Then every day 77000/182 new patients will develop dengue. As the disease lasts on average 1 week, on any day in the country there were 77000/182 x 7 = 2962 patients either at home or in hospital. All of the dengue viruses in Sri Lanka were inside these 2962 patients (and of course the infected mosquitoes). In other words the virus is trapped. If we stop these patients being bitten by mosquitoes the virus will die. We may not be able to prevent all of these patients being bitten by mosquitoes. That doesn't matter because if we prevent a good number of patients being bitten and continue to do so for a period of weeks, the number of patients associated with the virus will gradually reduce and the disease will eventually disappear.

QHow should we overcome the practical problems that we face in implementing this programme?
We need to protect the dengue patients in hospitals. The best arrangement is to house them in designated wards. Even though there is some cost involved, the best option is to either air condition the wards or if that isn't practical, because of the building, to surround the ward using mosquito netting. This may sound expensive. What is the worth of human life? How many have died this year? Was it their fault? If you read the newspapers you will observe that millions are being spent on unnecessary projects. The patients at home should be protected by both mosquito nets and insect repellents as nets alone aren't sufficient due to patients moving around the house.

QDoes adopting this method mean we should reduce or give up altogether the measures to control mosquito breeding?
Certainly not. Mosquitoes are a nuisance even if they don't cause dengue. In addition the less mosquitoes present, the less chance for them to reach a dengue patient and spread the disease. The mistake is to limit the strategy to control breeding only. There are other things that can be done to prevent mosquito bites. The houses can be screened with netting or the curtains can be impregnated with insect repellent. The interior of houses can be checked to ensure no mosquitoes are resting within. People can wear clothes to cover their arms and legs. Recently a very good suggestion was made that younger boys too should wear long trousers to school. The suggestion was made, according to the press report because the educational authorities had noticed that children who were catching dengue were those wearing shorts.

QWhat is the role of the public in implementing this strategy
As with any other strategy, the public have a very important role to play regarding this strategy as well. Not all dengue patients are hospitalized. In fact if the public managed to protect all or at least the majority of dengue patients at home, that alone will help eradicate dengue in the future. The importance of protecting patients in hospitals is to set an example and highlight the importance associated with protecting dengue patients from mosquitoes. The day when the public get to know the real story behind dengue, they on their own initiative will protect all fever patients, irrespective of eventual diagnosis, and the epidemic will end. The sooner that day arrives, sooner the epidemic will end. The media has a role to play in educating the public on the true nature of dengue transmission.
We have an advantage over other countries because we are an island. All the dengue viruses living in Sri Lanka are made in Sri Lanka! They haven't arrived here from other countries. If we stop growing them in our bodies the virus will eventually die. Singapore doesn't have this advantage because everyday, thousands of workers, students and vehicles arrive in Singapore from Malaysia and other countries. Some of them no doubt bring the virus, if not the mosquitoes.

QAre there any lessons that we can learn from how Sri Lanka eradicated Malaria, that will help with the prevention of dengue?
The lesson we can learn from Malaria and Filariasis eradication from Sri Lanka is that in both cases we eliminated the causative organism, not the vector i.e the mosquito. In fact for a long time we tried to control both disease by controlling the vector, but without success. By finding malaria cases and treating them we killed the causative organism within the patient, hence it couldn't infect another person. By repeatedly doing this over a period with regard to each patient, we finally got rid of the malaria parasite from the whole of Sri Lanka. In the case of filariasis we didn't treat the patients only, but the whole population and in the process caught all the parasites in one go. Unfortunately we have no effective treatment for dengue, so we cannot use the method we used for malaria and filariasis.
However there is one weakness associated with the dengue virus and we can use to eliminate it. The virus can live in a person for 7 days only. It has to find another person within the 7 days or die. If we protect all patients with the virus from mosquitoes we will succeed as we did with malaria and filariasis. In fact we know the people who are harbouring the virus, namely the dengue patients. As I said before there are only a few thousand of them at any given time.
In the case of filariasis we didn't treat the patients only, but the whole population and in the process caught all the parasites in one go

I know there are people who will say that we don't know all the dengue patients, so we cannot do it. But there is something we know about dengue patients. They have fever. Some will immediately say not all fever patients have dengue. Some others will say that some dengue patients wont have fever. This is my answer to the first lot. What is the harm in preventing mosquitoes from biting fever patients who do not have dengue? If we were prepared to give drugs to people who we didn't know they had filariasis in order to get rid of the filarial worm, why are we reluctant to prevent mosquitoes from biting fever patients? Not everybody in the country had filariasis? The answer to those that highlights the existence of dengue patients without fever is that. It doesn't matter if we missed some cases because they didn't have fever. We missed some malaria patients and it didn't matter. And two, it is not clear that dengue patients without fever are a threat because they may not have enough virus in them to transmit via a mosquito bite.
Dr. Jayasinghe's strategy focusing on isolation of suspected Dengue is in fact, not a new practice to Sri Lankan culture. We have been keeping people who have highly infectious diseases like Mumps and Chickenpox in isolation since the old times. Some small scale campaigns inspired by the idea put forward by Dr. Jayasinghe are currently being carried out island wide. It is the responsibility of the personnel in charge to give due attention and take necessary steps towards implementation.
---
Let's arm ourselves against this menace!
Integrated Vector Management as prevention

Speaking to Daily Mirror, Community Physician attached to the Dengue Control Unit Dr. Prachila Samaraweera said that at present the Dengue Control Unit is entrusted with the responsibility of carrying out an Integrated Vector Management system to eradicate the threat of dengue mosquitoes. She said that under the Integrated Vector Management system, the unit is targeting source reduction, adult mosquitoe control and larvae control.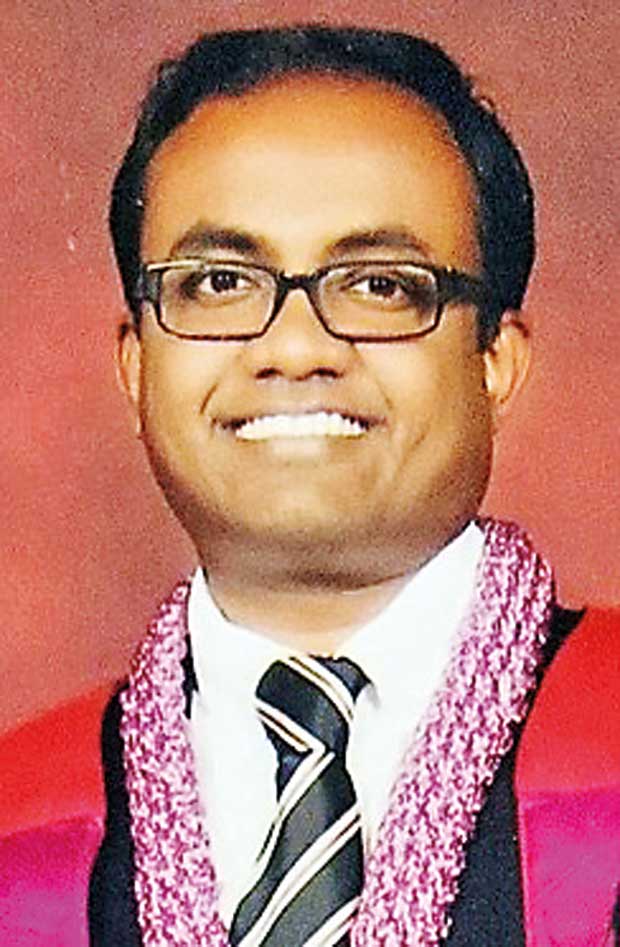 Dr. Himantha Atukorale, Vavuniya General Hospital
"As a measure of prevention, currently we are focusing on Source Reduction where we seek out the potential breeding grounds of dengue mosquitoes and destroy them. Also, we carry out fumigation procedures as part of controlling the risk of adult mosquitoes in the environment. Usually, fogging is carried out in areas that are most prone to be detected with adult mosquitoes. Additionally, we are constantly focusing on larvae control using chemicals" she said.
As a measure of prevention, currently we are focusing on Source Reduction where we seek out the potential breeding grounds of dengue mosquitoes and destroy them

"In addition to the above, the Presidential Task Force is carrying out cleaning programmes in public and private institutes; especially in schools. It has been made mandatory to allocate an hour to clean all institutions at least once a week as a prevention step. It is also pivotal to ensure that one's home environment is maintained clean. Roof gutters, drains and canals, lavatory systems and any place prone to the accumulation of water needs to be cleaned and maintained properly. The public is therefore bound to play a proactive role in help preventing the risk of dengue mosquitoes" Dr. Samaraweera added.
---
Try these two steps

Speaking to Daily Mirror, Consultant Rheumatologist at the Vavuniya General Hospital, Dr. Himantha Atukorale stressed the need to employ practical methods in curbing the deadly mosquito carrying the dengue virus. He stated that Dengue virus doesn't get transmitted from generation to another generation of mosquitoes nor does it "Run in the family". According to him, it requires the help of a hapless human being in order for the virus to pass on.

"Firstly, use nets to cover the dengue patient from the mosquitoes. If fresh mosquitoes don't bite on patients, there is no way for the insect to acquire the virus. The virus swims within the blood of patients during fever days and could last in the blood stream for about four days after the onset of fever. The patient should be protected from the mosquito even after the onset of fever that lasts for four days. However this is very difficult to be carried out in the hospital set up. In crowded wards where nets aren't possible, smoke fumigation might help to keep away the insects" Dr. Atukorale said.
"Secondly, we should somehow promote the simple "Plastic bottle egg trap". The bottles are cut and assembled in such a way that when filled with water, it lures the mosquito to lay eggs. Gravity causes the eggs to fall in to a separate bottom section of the bottle. But the larvae coming out of eggs are unable to fly away. If many such traps are made available in the environment, it'll render eggs useless and cut down the mosquito population in half. So let's trap the virus inside patients, and trap the eggs inside bottles during this time of calamity" he added.