---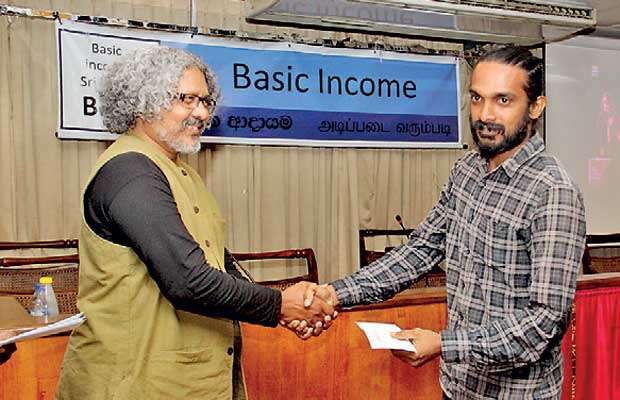 Artist Paalitha Abeyratne receiving his award from the Coordinator for India Network for Basic Income (INBI) Dr Sarath Davala
---
"In Sri Lanka, we have barely any state funding for artists and realistically speaking, the government doesn't sustain a model that would support developing creative practitioners. Yet we must ask 'Where is the next Chitrasena or the next Khemadasa? Where is the next Jean Arasanayagam or Oosha Saravanamuttu? Are they stacking shelves in a super market? Are they working in a garment factories?"
Recently Basic Income Sri Lanka (BISL) held an awards ceremony at the OPA Auditorium for 5 recipients who were chosen to receive the award of Basic Income. The 5 recipients were chosen from vulnerable communities: 3 widows from the war affected areas of Kilinochchi and 2 artists who do voluntary work in the theatre in the South: Each recipient to receive an unconditional Basic Income of Rs 10,000 (World Bank poverty threshold of $2 a day) per month for a period of 2 years. They will become part of a study to experiment the effects of Basic Income on the degree of vulnerability in their lives. The event was organised by Selvi Sachithanandam, Coordinator BISL and Co-coordinators Visakha Tillekeratne and Madhuri Mody
It is very significant that voluntary artists were chosen as subjects of this study on par with war widows. The rationale behind this action is no doubt admirable
I have worked for 20 years now as a theatre practitioner and teacher, a creative and journalistic writer, as a radio personality and a voice over artist. My work has taken me around the country and led to encounters with people from all communities and social backgrounds. And if there is one thing I have learned, and one thing I have tried to change, it is the opinion that the arts are not considered a viable, valuable profession. In other words, most artistic people here and around the world, inevitably hear those dreaded words - 'get a real job' – and in fact, I have lost count of the times I have been asked 'What is your real job?'
My response has always been "I have a real job, thank you. I have business hours, budgets, company policies and action plans and I live in fear of my accountant just like everyone else."
"It is very significant that voluntary artists were chosen as subjects of this study on par with war widows"
Artistic and creative work has immense value socially and economically, but receives little recognition. It is employed in entertainment, education, communications and reconciliation, and yet skilled, creative people are constantly questioned as to the validity of their profession and asked to compromise on the value of their labour.
I am very aware that I speak from a position of privilege. I was born into a family committed to drama, music and arts education and I had all the support I needed to establish my career. This is not the case for the large majority of my fellow artists around the country, be they actors, writers, musicians, visual artists or dancers.
For working 8 to 10 hours a day, theatre actors – for instance - are lucky if they are paid Rs.750 and receive a free meal. Many artists are not paid at all. Very often, emerging and established creative people are asked to deliver work free of charge in exchange for 'exposure'. And granted, exposure is a very worthwhile thing - but you cannot eat it. Any creative artist is first and foremost a human being. One entirely deserving of living life with dignity and self-respect, and these qualities are reinforced for us all in the ability to do certain basic things, like paying bills and putting food on the table.
Financial crisis is always the great motivator that leads to artists get 'real' jobs. This means there is little or no time for creative work or for developing creative potential and vision. If we acknowledge that the arts contribute positively to an individual's emotional and social development, then we must also acknowledge that the inability to be creative, especially for an artist, can lead not only to the frustration of not being able to live up to one's potential, but also to a damaging social alienation. Perhaps, in a world that recognizes only certain forms of labour, and values punishment over compassion, this is not such a big deal. But I, and many likeminded people, do not look forward to a future where potentially brilliant creative artists have become cogs in a corporate machine or subsist on meagre wages. In Sri Lanka, we have barely any state funding for artists and realistically speaking, the government doesn't sustain a model that would support developing creative practitioners. Yet we must ask 'Where is the next Chitrasena or the next Khemadasa? Where is the next Jean Arasanayagam or Oosha Saravanamuttu? Are they stacking shelves in a super market? Are they working in a garment factory?
As we travel further into the 21st century and artists face increasingly unstable and unreliable incomes, we need to have a programme that addresses modern challenges. When the unique issues of the creative entrepreneur are considered, the adoption of a basic income model becomes, indeed, an idea whose time has come.
Artist Lihan Mendis receiving his award from the Coordinator for India Network for Basic Income (INBI) Dr Sarath Davala


Basic Income is not payment for artistic or creative work. It is recognition that artists are human and everyone needs financial security, no matter what kind of work they do. It is a small and unconditional cash flow specifically aimed at helping an artist meet their day-to-day needs. It will reduce financial dependency on other family members, enable the artist to have more time to be creative and alleviate feelings of stress and anxiety. It will reduce the pressure to find work that pays as opposed to work that is fulfilling. In this age where technology has advanced our means of communications infinitely, the scope for artists to make and distribute work that is deeply personal or has direct social impact has increased exponentially. A basic income would be a transformative policy shift that would not only grant stability and freedom from the income trap, but would lead to a thriving cultural sector.
"Basic income would be a transformative policy shift that would not only grant stability and freedom from the income trap, but it would lead to a thriving cultural sector."
Basic Income Sri Lanka's aim to empower artists does not mean that there will automatically be greater appreciation of artistic professions but it is a call to society in general to acknowledge that the definition of what constitutes 'a real job' is a lot wider than the traditional models that dominate our culture.
"Basic Income is not payment for artistic or creative work. It is recognition "

I would like to quote from author Saul Bellow who made this statement on science and art at his Nobel Prize lecture in 1976: Only art penetrates what pride, passion, intelligence and habit erect on all sides – the seeming realities of this world. There is another reality, the genuine one, which we lose sight of. This other reality is always sending us hints, which without art, we can't receive. Proust calls these hints our "true impressions." The true impressions, our persistent intuitions, will, without art, be hidden from us and we will be left with nothing but a 'terminology for practical ends' which we falsely call life.
On behalf of Mind Adventure Group, I would like to thank Basic Income Sri Lanka for having taken the artists' case out in the public domain and throwing a spot light on their predicament. We hope BISL will continue to engage with artists as they strive to give art and creativity the value and recognition they deserve and promote their social and personal benefits.

Tracy Holsinger.
Tracy Holsinger is a leading dramatist in Sri Lanka and the Director of Mind Aventure Theatre Group