---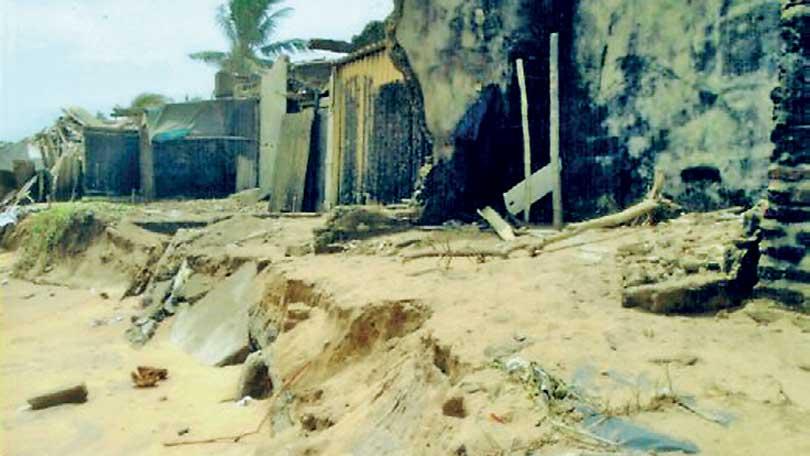 By H.M. Dhamapala and Kusal Chamath

Sea erosion that had been causing much havoc in the Ratmalana area for several years without any attention on hundreds of affected families worsened this week, due to the stormy winds experienced at present. More than 15 houses were razed to the ground and several more have been left to the mercy of the waves.

Residents of the area said the boulders laid by the Department of Coast Conservation were now buried in the sand. They pointed out that the land was being swept to the sea with houses and other property and now the waves were lashing against the edge of the railway reservation. They expressed concern about the lethargic attitude of authorities who ignored continual representations in this regard.

"Our continual requests to erect a strong breakwater to prevent the force of trembling waves or to settle us on land in safer locations, have fallen on deaf ears. When about 70 houses were destroyed by sea erosion about four years ago, the authorities promised to provide land in safer locations for us to settle, but no action has yet been taken. We are living in constant fear of any possible danger to life if houses were swept to the sea at night. Hundreds of families have been compelled to stay here for want of land to settle. The distance between the beach and the railway line is less than 12 metres. In the past the edge of the beach was more than 100 metres away. The boulders laid by the Coast Conservation Department last year have now been buried in the sand. When we are displaced the officials would provide us dry rations without any attempt to resolve the issue," they said.

The requested the relevant authorities to look into their predicament and to settle them in safer locations, or to erect a breakwater to prevent the waves.