---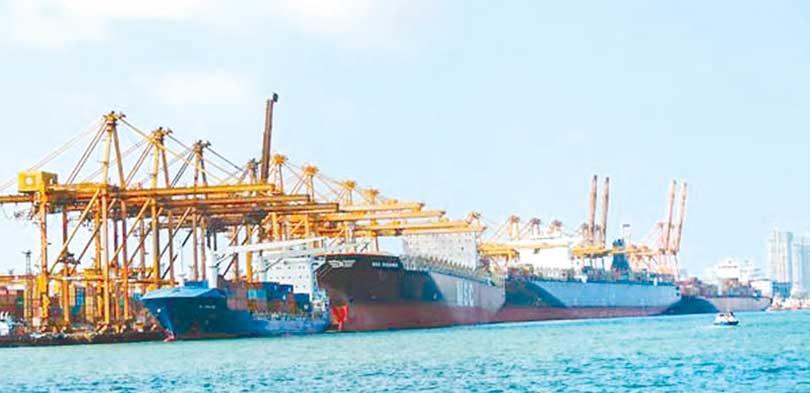 Colombo Port has immense potential of becoming a trading hub: Germany
Says Sri Lankan railway connection should be upgraded

The Colombo Port is large in South Asia, and the challenge now was sustaining the momentum, and elevate it to the next level as a trading and logistics hub, the Delegation of German Industry and Commerce in Sri Lanka (AHK Sri Lanka) said.

Chief Delegate Andreas Hergenroether, in a brief interaction with the Daily Mirror, said it was high time to see that the momentum was used to create jobs, know-how transfers, and new entrepreneurial engagement.

"Therefore, it would be important that Colombo Port is developed from a logistics hub to a trading hub. That is the intention of commercial hub regulation. Currently, six projects under the commercial hub regulations, which are of course not enough. There is huge potential for bonded warehousing, value addition, labelling and packaging. It will create jobs and entrepreneurial engagement," he said.

Both the past and present Governments speak about making Sri Lanka an international hub capitalising on its strategic positioning in the Indian Ocean. The chief delegate of German industry was positive on the new government's tax reduction.

He said tax reforms would give impetus for the attraction of Foreign Direct Investment (FDI). At the same time, he said it would be 'very important' for the German companies present in Sri Lanka to have regulatory measures that would undermine Sri Lanka's commitment to a level playing field, and also to the very strong rule of law.

"That is something we see in the Ease of Doing Business Index of the World Bank," he said. "Sri Lanka is still in a lower position. That is a very important sign we see that there is a strong commitment to having stable for national and foreign investors. That we would have equal rights for foreign and national investment, that is about the liberalization of freight forwarding and shipping sector. We have talked to several German businesses that have shown strong interest to increase investment," he said.

In realising its dream as a hub, he said it was also important for the country to make commercial hub regulations more attractive to foreign investors.
He stressed that German investors were ready to put their money on the ground here more if the present obstacles were cleared.

"We have spoken to German businesses that are willing to invest. The obstacle or the minimum capital requirement should be either significantly reduced or abolished. If you see the unique selling points of Sri Lanka, the strategic location is one.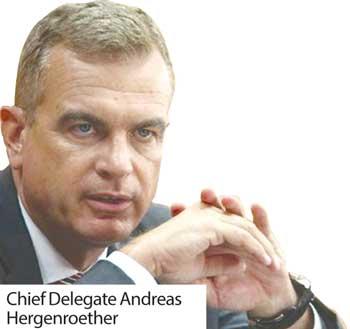 "The Colombo Port has huge potential for bonded warehousing, value addition, labelling and packaging. It will create jobs and entrepreneurial engagement. It will have a very positive effect on Sri Lanka. In this regard, we, as official representatives of the German industry, are very much committed to sharing free trade," he said.
Highlighting the importance of Free Trade Agreements (FTA) with other countries, he said it is always important to have access to other markets in Asia. He cited the FTAs with China and Thailand as of huge importance for Sri Lanka.

"The new government is focused on tourism. General tourists are one of the largest tourist groups in Sri Lanka. We have a tourist committee here. We have German tour operators and hotel chains.

"Direct flight connectivity is very important. It is very important to think about land alienation act. So far, you can only be a minority shareholder for land registration for a tourist project," he said.

Asked about his engagement with the leaders of the new government, he said he held talks with Minister of Industrial Export and Investment Promotion and Minister of Tourism and Civil Aviation Prasanna Ranatunga and State Minister Keheliya Rambukwella.

"We would like to strengthen our commitment from the German industry side. We are also supporting as we did in the past to promote Sri Lankan exports to Germany. In January, there are two delegations going to Germany- one is the food and agriculture industry. We are organizing a Sri Lankan pavilion on our own for Sri Lankan companies to promote their products at the international level. It is the largest agriculture and food event in the world. It is about 420,000 visitors. It would be a good opportunity to promote Sri Lanka there," he said. The second delegation is from the Export Development Board (EDB). There will be a Sri Lankan pavilion for boat building and water sports.

"That is also an opportunity because the boat building industry is a major sector in the national export strategy. I think it would be a good thing to promote it. We have many other activities during the coming year. At the end of January, there will be a German delegation on sustainable mobility. We will organize a conference in Colombo. It will cover four major sectors of mobility. On the one hand, it is railways. Also, there is modification of railways and energy-efficient railway systems. We are talking about light rail systems. Sri Lankan railway connection should be upgraded. We also talk about important infrastructure. There are challenges according to the international maritime organization. Sulphur represented vessel fuel has to be reduced to 0.5 percent and optimization of intralogistics part," he said.

Elaborating on Germany's interest in the railway sector here, he said that the government must find efficient solutions.

"The point is what should be done to identify solutions that are energy efficient. Currently, there are diesel motors. There are engine manufacturers in the delegation. They will present new solutions for energy-efficient and emission-reducing motors. Sri Lankan side has to decide on which read it should go," he said. "Sustainable mobility is a worldwide initiative by the German Ministry of Economic Affairs and Energy Development. We are happy Sri Lanka has been chosen as one of the countries. It is important for Sri Lanka because it is a country is a member country of global climate forum. It has also committed the targets- emission-reducing," he said.
The Colombo Port has huge potential for bonded warehousing, value addition, labelling and packaging. It will create jobs and entrepreneurial engagement. It will have a very positive effect on Sri Lanka. In this regard, we, as official representatives of the German industry, are very much committed to sharing free trade