---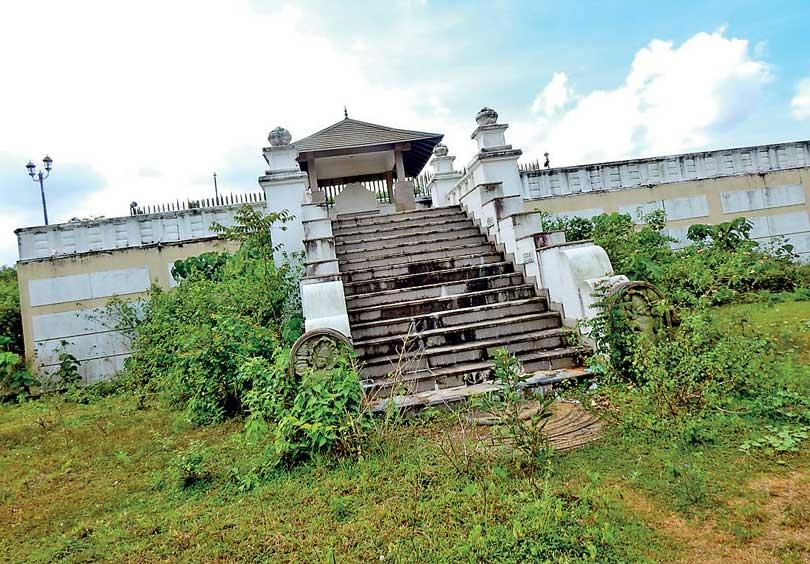 By Muditha Dayananda
The Kahapola Regidale Estate or Simon Dale Estate in Piliyandala that was acquired by the former government to establish the Shakya Janapadaya is now being considered by the present government to be converted into a Zoological garden.

The residents charged that it is a historical fact that four governments during their rule had attempted to develop it under four projects which were failures and the land is now being regarded by them as a site where a colossal amount of money had been wasted.

This land had been donated to the public trustee by Philanthropist Samarakoon Mudali many years ago to be used for Buddhist religious activities or to be used for the welfare activities of the general public.

A former Minister of Buddha Sasana, Wijeyadasa Rajapakshe took steps in March 2017 to establish the Shakya Janapadaya on this land which is in extent of 78 acres. The same year on 11th of May commemorating the International Vesak celebrations, this was declared open by the then President Maithripala Sirisena.
A couple, doctors by profession living in USA came forward to donate Rs.500 million for the establishment of the Shakya Janapadaya, and the Light of Asia Foundation undertook its construction.

Few months later a university similar to the Nalanda University in India was to be constructed on a part of this land and a donation of Rs.20 million had been gifted by a foreign Buddhist Monk for this construction.

Only the initial construction work now remains without any progress. While this situation remains, Prime Minister Mahinda Rajapaksa had in the meantime had instructed the Ministry of Buddha Sasana, Cultural and Religious Affairs to vest this land once again with the Zoological Department.

Following this move, it is learnt that a Cabinet paper is to be presented by Minister S. M. Chandrasena seeking approval for the construction of an outdoor Zoological garden on this land.

This land located bordering the Bolgoda Lake has been used on four occasions by previous governments for several projects, which were all abandoned half way. In 2004, this land was vested for the construction of a housing complex and despite public protests all the trees that were on the land were felled and removed.
In 2007, during the time of former President Mahinda Rajapaksa's regime, a wall was constructed claiming that the land is to be declared as a sacred city.

Constructions did not proceed and now the site is covered with overgrown weeds and bushes. Again in 2014, a foundation stone was placed with much fanfare during President Mahinda Rajapaksa's regime for the construction of an outdoor Zoo. While the much hyped constructions are not making any progress, nature had been very responsive in making the land a thick forest. Sources at the Ministry of Buddha Sasana and Religious Affairs reveals that a vast sums of money has been spent in providing security to the land.