---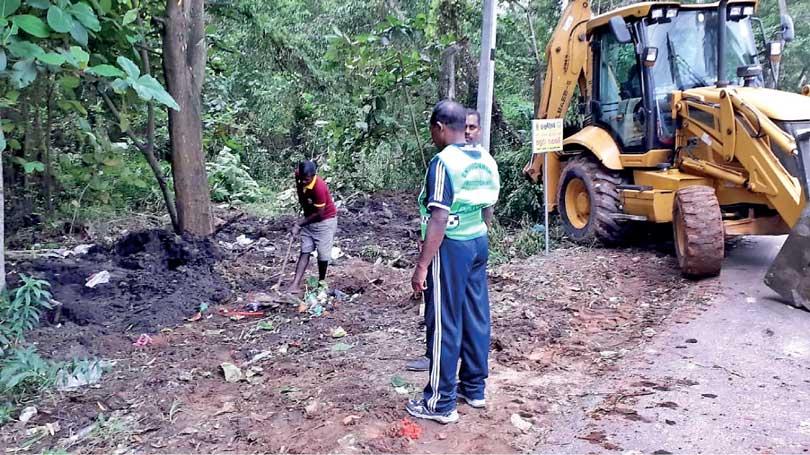 By Tissa Kotinkaduwa
In compliance with the concept of President Gotabaya Rajapaksa on cleaning up garbage in cities across the island, the Ja-Ela city and its approaching roads were cleaned up recently.
The clean up project was launched by the Community Police Unit of Ja-Ela under the guidance of the OIC of the Ja-Ela Police, Inspector Nissanka Silva.

Under the project, both sides of the Dandugama Road on the Colombo-Negombo Main Road, and both sides of the Ekala Road branching out from the Ja-Ela- Gampaha Road, the road leading from the Ja-Ela exit of the expressway and the road in front of the Ekala Air Force camp on the Ja-Ela- Kurunegala Road were cleaned up and beautified. In order to make the effort a success, The Ja-Ela Urban Council Chairman Shammika Dias, Ja-Ela Pradeshiya Sabha Chairman Chandrapala Madurapperuma and the local council staff, the members of the Air Force Camp in Ekala had also offered their sponsorship.

Officials of Ja-Ela Police, Inspector Jagath Wijerama, SI Priyantha, Sergeants Jayaratne, Chandratilleke, Weerasuriya and PCs Sarath, Edirisinghe and Hemantha participated in the project.
The clean up project was launched by the Community Police Unit of Ja-Ela under the guidance of the OIC of the Ja-Ela Police, Inspector Nissanka Silva