---

Congenital anomalies are abnormalities that occur from the time of birth itself. Many of them happen due to a slight misstep in the normal, yet extremely intricate pathway of embryo formation where a single cell evolves into a complex human being.

Cleft lip and cleft palate are two of the commonest congenital abnormalities doctors have to deal with. Going hand in hand, these two together can not only deform the face of the baby, but also make breastfeeding difficult or impossible, giving rise to many additional problems. But what is the outlook in these children? Fortunately, as with many other medical conditions, science has found solutions for cleft lip and palate. In this week's issue of Health Capsule we have consulted Dr. Deepal Perera, Consultant Paediatrician at the Lady Ridgeway Hospital to obtain more information on these two conditions.
Surgery for cleft lip is usually performed when the baby is 3 months old, while the recommended age for surgery for cleft palate is around 6 to 12 months
Formation of cleft lip and palate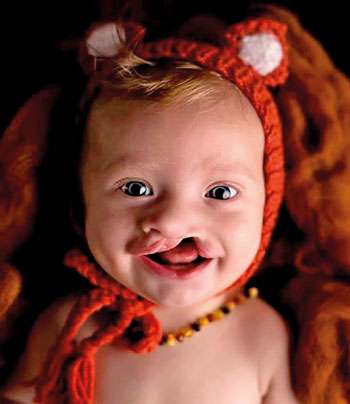 Our skull is a result of fusion of several bones together during the fetal state. Cleft lip and palate occur when some of these bones fail to fuse together. Cleft lip occurs because two processes called maxillary and frontonasal process that participate in forming the facial structure in a fetus does not fuse like in a normal fetus. Cleft lip can be on one side as well as in both sides.

Similarly, in cleft palate, failure of fusion of two palatine processes forming the nasal bone occurs. According to the doctor, about 8 children among 1000 newborns have a cleft palate. Cleft lip and cleft palate can exist individually as well as together.

Causes
Cleft lip and palate has found to be polygenic, meaning that multiple genetic factors are involved in inheritance of this condition. In addition, this condition can present as a part of a syndrome where there are multiple abnormalities present, as well. One such example is Pierre Robin's Syndrome. Mother's health status and habits before pregnancy can also affect the occurrence of this condition. For an example, mothers who are on anticonvulsant medications like carbamazepine and sodium valproate, mothers who have been diagnosed with diabetes before pregnancy have a higher risk of giving birth to a child with cleft lip and palate. Antenatal folic acid supplementation on the other hand is found to decrease the risk of occurrence of the condition.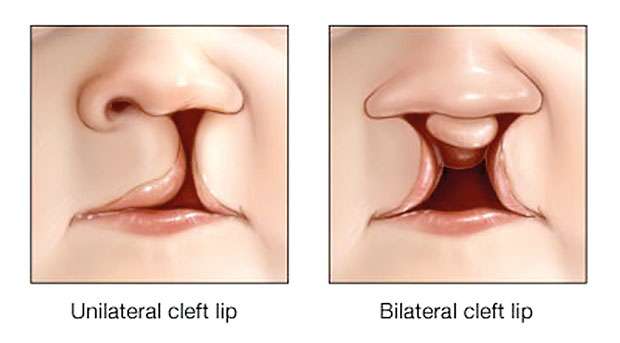 Complications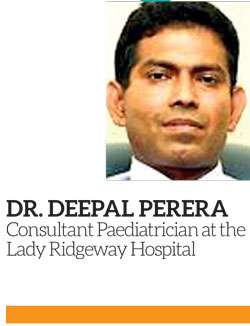 Why are we so worried about this condition? The cosmetic abnormality in itself will be distressing to the child as well as the parents unless corrected early. In addition, more serious complications can also occur, especially in babies with a cleft palate. Here, since the palate is not fuse, the roof of the mouth is open to the nasal cavity above, which makes it difficult to breastfeed a child. Depending on the severity of the condition, special feeding devices, teats, and techniques can be used in feeding the baby until the abnormality is corrected.

In addition, they are more prone to get middle ear infections, which may even lead to permanent deafness unless treated adequately.
Delay in speech is another problem which is common in children with cleft lip and cleft palate, since the sound may not carry well in these children. In addition, it's found that dental problems, including caries are also more common in these children.

Treatment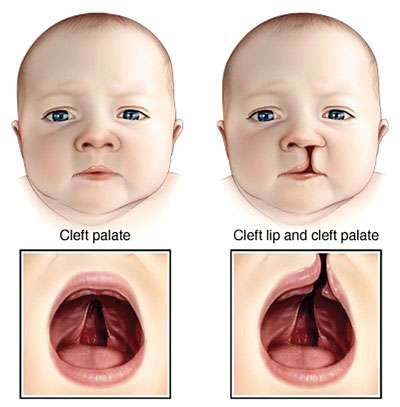 Diagnosis of a cleft lip and palate can be made soon after birth or sometimes even when the mother is still pregnant, through an antenatal ultrasound scan.

Corrective surgery is the definite treatment and even though it will take time, the majority of children get to lead normal life with corrected deformities or complications.

Surgery for cleft lip is usually performed when the baby is 3 months old, while the recommended age for surgery for cleft palate is around 6 to 12 months. Depending on the severity of the condition, multiple surgeries may be required over the course of years, but as previously stated, outlook is quite good in children with the condition. A multidisciplinary team, consisting of doctors and therapists of various specialities should be involved in managing the child over the years. The team includes plastic surgeons, who will be in charge of determining the timing and other aspects of corrective surgery, ENT surgeons, dentists and speech therapists.

Message to parents
Finding out that your child is having a facial deformity at birth will be quite distressing to a parent. But don't let that diminish the happiness of welcoming the newest member of your family. Despite all the obstacles on the way, with your support and love, and the advanced medicine and surgery, your child is definitely looking towards a bright future.