---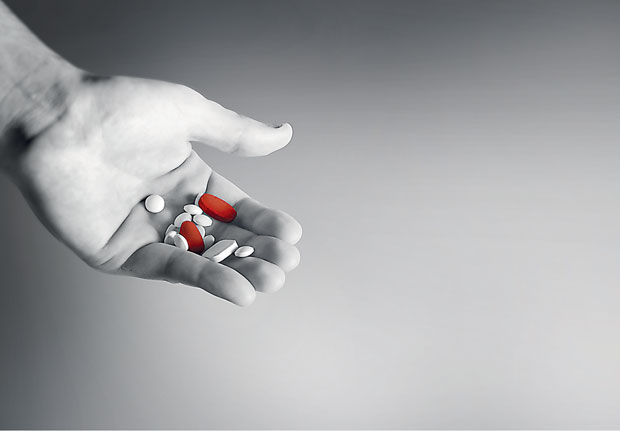 Antibiotics are prescribed to kill or inhabit bacteria during a bacterial infection. Antibiotic resistance, however, where bacteria becomes resistant to antibiotics, has become a major health threat worldwide. Experts have pointed out that there is a lack of investment to produce new antibiotics. Therefore if antibiotics are not handled cautiously, this could result in irreversible and drastic consequences. Against such a backdrop, the World Health Organization has declared this week World Antibiotic Awareness Week. Daily Mirror spoke to Dr. Kushlani Jayatilleke, Consultant Microbiologist at the Sri Jayawardanapura General Hospital, who also functions as an Assistant Secretary to the Sri Lanka Medical Association (SLMA). She explained the extent of the problem and suggested the best practices to curb antibiotic resistance.
QWhat are the consequences of taking antibiotics unnecessarily?
Antibiotics were invented during the early part of the 20th century. If one uses too much antibiotics, their effectiveness is lost. The bacteria exposed to these antibiotics develop mechanisms to resist them. Antibiotics like penicillin which were very effective when they were discovered are no longer effective as a result.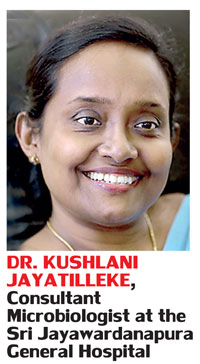 Our body has a normal bacterial flora. They help maintain health and protect from infection. If antibiotics are taken unnecessarily, the protective bacteria could also be killed. If there are one or two antibiotic-resistant bacteria when antibiotics are taken, the beneficial bacteria would also be killed and the resistant bacteria will become prominent. They will multiply and form a population of resistant bacteria.

QHow do you prevent antibiotic resistance?
Antibiotics are not a treatment for fever as fever is not always due to an infection. Most infections are viral. Bacterial infections are very rare. Antibiotics will not help fight viral infections such as the common cold or influenza. People believe that if they take antibiotics, they can recover fast, so they request antibiotics from the doctor. This should not happen.

People should question doctors as to whether antibiotics are required if prescribed. Antibiotics should not be stored to be used later for a similar infection. One must not self-medicate as the disease could be diagnosed incorrectly. Medicines are prescribed according to the person as well. Certain antibiotics are not prescribed for children. If the patient is taking other drugs simultaneously, there is a possibility that these could interact. We take many factors into consideration when we prescribe an antibiotic. Antibiotics should not be bought from a pharmacy without the prescription of a doctor.
If an infection can be prevented, there will be no need for antibiotics. Antibiotic resistance will be reduced. So, proper hygienic measures and infection prevention measures are recommended. Vaccines will also help reyduce infections.

QWhat guidelines should be followed when a person is prescribed an antibiotic?
If an antibiotic is prescribed, it should be taken properly. The antibiotic should flow through the blood in the correct concentration and should also reach the target. For instance, the antibiotic should reach the urine in an urine infection. When it reaches the target, the concentration should remain high. This is why we need to take antibiotics on time, in correct amounts and not miss a dose.
One must also complete the course, unless there are bad side effects. If you have been asked to take it for five days, this should be followed. Even if you feel better you should continue, because if a bacterial infection is treated partially, it can come up again. Then the remaining bacteria will be more difficult to treat.
take it for five days, this should be followed. Even if you feel better you should continue, because if a bacterial infection is treated partially, it can come up again. Then the remaining bacteria will be more difficult to treat.
QWhat are the side effects of antibiotics?
Doctors should inform patients about the side effects likely to occur. Side effects are rarely severe. Apart from allergies, certain antibiotics can cause severe diarrhea. There can be small alterations in the bowel habit but sometimes it can be so serious that hospitalization is required. The condition can be fatal but fortunately, deaths occurring due to side effects of antibiotics are not common in Sri Lanka. When side effects are present the antibiotic should be stopped and one should see a doctor.

QWhat are the extreme impacts of antibiotic resistance?
We have to use antibiotics in hospitals. If an infection is picked up from a hospital, the bacteria will become resistant to most antibiotics. We have this problem in most hospitals. Our surveillance programmes have shown that the resistance levels in Sri Lanka are very high. Some bacterial infections we acquire, especially from ICUs, are resistant to every antibiotic in the country.

New antibiotics are not invented to meet the rate of resistance of available antibiotics. There were a lot of antibiotics developed during the early part of the 20th century. But after 1960, we saw a very big gap where no new antibiotic came into the market.

QWhy is there less progress in the invention of new antibiotics?
When an antibiotic is developed, there is not much profit to be made, unlike medicines for cholesterol and diabetes which will be taken for the rest of your life. After spending so much on developing an antibiotic, other companies can produce the same drug for a cheaper price, once the original patency ends. It has been predicted that by 2050, deaths due to antimicrobial resistance in the world will overtake deaths due to cancer. The highest impact is predicted to be felt in Asia.