---
6 drowned
20 hospitalised

The ferry was being used to transport people due to repairs being carried out on the Kuringankerni Bridge in Kinniya
By Darshana Sanjeewa Balasuriya
At least six persons including four students were drowned and 20 others were hospitalised after a passenger ferry capsized in the Kuringankerni lagoon in Kinniya yesterday.
Police Spokesman SSP Nihal Thalduwa said that a 30-year-old woman, her 6-year old son and 3-year-old girl were also among the fatalities.

Two girls in the same family and a 70-year-old man also died in the tragedy.

The rescued persons were admitted to the Kinniya and Trincomalee Hospitals.

At least 30 persons were reportedly on the ferry at the time of the accident, while few of them managed to swim to the shore following the capsizing of the ferry.

The spokesman said five girls and four boys were among those 19 persons receiving treatment at the Kinniya Hospital. A 6-year-old girl is receiving treatment at the ICU at the Trincomalee Hospital. The Navy and the Police launched a search operation to locate the missing persons soon after the incident.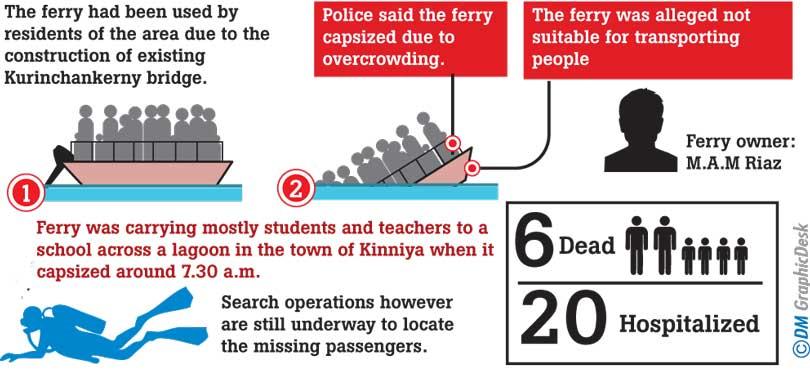 The ferry was being used to transport people due to repairs being carried out on the Kuringankerni Bridge in Kinniya. Police said a tense situation prevailed in Kinniya following the tragedy. Residents in the area staged a protest claiming that the authorities had not implemented a proper programme to prevent such accidents during development projects.

Meanwhile, the house of Sri Lanka Muslim Congress MP M. S. Thowfeek at Kinniya has been attacked by a group of residents following the accident.

The MP's house was severely damaged in the attack.
Residents in the area claimed that the authorities had not implemented a proper programme to prevent such accidents during development projects