---
I believe everyone is unique in their own little way. In my case, I am not just an emcee, I am the best friend of the couple on their big day.

Joel Outschoorn's career journey is a fascinating evolution from newsreader to wedding emcee and officiant. Shifting gears from the world of news, he found a new passion in orchestrating weddings after initially emceeing for family and friends. Joel also established himself as a social media influencer, showcasing his talents as a voice artiste, corporate event emcee, host of YouTube shows, and occasionally lending his presence to TV commercial shoots.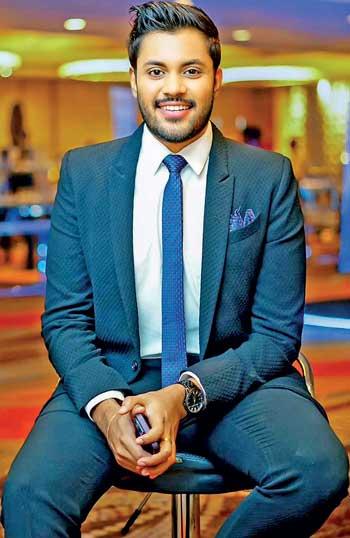 Q:
What motivated you to shift your career from being a newsreader to becoming a wedding emcee and wedding officiant?
It all started with emceeing at family and friends' weddings. I would say that what started as a hobby gradually turned into a job as I entered full-time emceeing events and weddings. It happened gradually until one day I decided to leave my corporate career in the news. I have always appreciated the beautiful little moments at weddings. I have a habit of capturing these delicate and intimate moments at weddings and sharing them on social media. This actually caught the attention of many couples, and they wanted their special moments captured on their big day.
Q:
How did your experience as a newsreader prepare you for your current role?
Preparation was always key in the newsroom. This practice helped me immensely, and, to date, the experience has helped me along the way. Most importantly, to adjust to the situations without panicking and keep the show going smoothly, even during the most stressful and challenging times. Also, the experience I have gained as a marketer in my corporate career is a great help in developing and maintaining industry contacts.
Q:
Was there a particular event or moment that inspired you to venture into the world of weddings?
I believe it was the very first time I hosted a wedding reception. I was emotionally connected to the role, and everything felt so natural. Celebrating the union of two people getting married is always something beautiful, and as we all agree, weddings are fun and entertaining. There is never a dull day at work, and I love what I do. I always feel special and honoured to be a part of the most special day of two loving souls.
Q:
What do you find most fulfilling about being a wedding emcee and officiant?
No matter how many weddings I host, the feeling is always fresh and amazing. Being a wedding officiant is such a rewarding experience. To watch them walk down the aisle, held by their parents, alongside loved family and friends, is a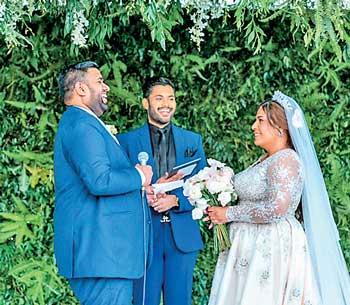 true blessing to witness. I always hear beautiful new things when couples exchange their vows as they express all that they feel for each other. This always makes me feel emotional and special to be involved.
The love and compliments shared with me during the process of a wedding ceremony are things that money can't buy. This feeling reassures my decision to become an emcee, and I want to continue for years to come. Making a couple feel they had the best wedding ever is a rewarding feeling.
Q:
How do you handle the pressure and emotions involved in presiding over such important and emotional ceremonies?
My duties and responsibilities start as soon as I am booked for a ceremony. Each and every couple is special to me, and once I am booked, I take everything very seriously. A wedding is a matter of heart. I make sure the bride and groom feel most comfortable on their big day. There are many situations that, as an emcee and officiant, I need to handle, especially based on the religious and cultural backgrounds of the couple. I always do my best to handle these sensitivities very carefully.
Q:
As a wedding emcee, what do you believe sets you apart from others in the field?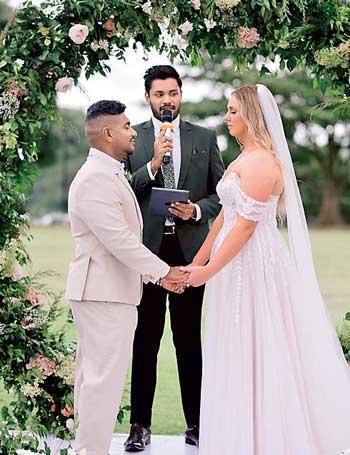 I believe everyone is unique in their own little way. In my case, I am not just an emcee, I am the best friend of the couple on their big day. I love to keep things very simple, comfortable, special and memorable for them. As an emcee, I prefer to connect everything and everyone together as they celebrate their special day. Isn't that what best friends do?
I always capture some beautiful scenes from the ceremony and share them on my social media accounts as a little token from my end. I later realised that my socials had helped many couples plan their big day. Also, prior to the event, I always make it a point to check on the theme and the colour palette, and I try my best to match and dress up. I believe it gives a sense of inclusion, as I also celebrate with the couple and their loved ones.
Q:
What was the most memorable or unique wedding ceremony you officiated, and why?
Every wedding and every ceremony were special, memorable, and great. I believe it's a blessing to say out loud the words "It's my honour to pronounce you husband and wife" or even to say "Ladies and gentlemen, let's all put our hands together for their very first dance as husband and wife."
Officiating ceremonies and receptions, especially when two nationalities come together, is a special highlight in my job as I get exposed to new traditions and customs as well as meet new people. Also, I love to dress up based on their cultural themes.
Q:
Have there been any challenges in adapting your skills from broadcasting to hosting and officiating weddings?
Not exactly; as I mostly prefer freestyle presenting, it was not challenging to move from broadcasting to hosting.
Q:
How do you bring a personal touch to each wedding you're involved in?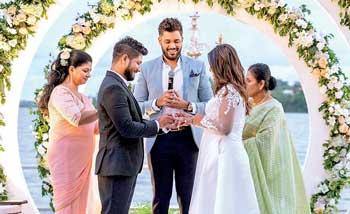 Friendliness is in my nature. I like to have a chat with the couple prior and get a little brief of their respective backgrounds and based on their experiences and inputs I add a little something. However, mostly I like to keep it very simple and elegant and most importantly make the newlyweds the main highlight.
Q:
what ways has this career change enriched your life personally and professionally?
I was able to come out with my very own tag as "Joel the Host" and create a brand for myself. Along with my career change, it also opened an alternative path for me to work with many other media platforms as a freelance talk show host. I also started my very own YouTube channel, which features a talk show. I also do brand collaborations via my social media in my capacity as an influencer. The career change opened new opportunities and new pathways.
Q:
What advice would you give to someone who is considering a career switch to the wedding industry?
The wedding industry is great and a blessed field to be in. You always get to see happy moments, and as an emcee, you can cherish these moments forever. However, if you are looking into entering this space, you must understand that we are dealing with someone's very special day. My advice for anyone considering a career as an emcee is: please do not treat it just as a job. It is a very special and emotional commitment, and your utmost discipline is needed.
Q:
Can you share any heartwarming or funny anecdotes from your experiences as a wedding emcee and officiant?
A father-daughter dance is something very emotional to watch and announce. Most ceremonies I've conducted have had their own share of moments. Watching the groom anxiously waiting for his bride to walk down the aisle is also a heartwarming moment to witness.
Q:
How do you balance your responsibilities as a wedding emcee and officiant with your personal life?
Thanks to the immense support I get from my wife, I can do my job to the best of my ability. I can never forget the day that I had to be at a wedding the day my wife was admitted to the hospital for labor. This was a challenging moment, but with the right mindset and the support received from my family, I managed everything very well.
Q:
What do you believe is the most critical aspect of creating a memorable and enjoyable wedding ceremony?
The names! I make sure to read out all names correctly and keep things simple yet exciting for them.
Q:
H
ave you noticed any particular trends or changes in the wedding industry since you started your journey as an emcee and officiant?
Over the years, couples' interest in having a wedding officiant service has increased. Also, the role of a wedding emcee has gained attention, as it plays a pivotal role in connecting all the dots and ensuring the ceremony flows well while paying attention to detail in the most significant moments.
Q:
How do you engage with couples to understand their vision and ensure their wedding ceremony reflects their personalities?
From the day we start working together, I try to understand the personalities of the bride and the groom and plan my responsibilities accordingly. I also make sure that I have a quick chat with them prior to the ceremony and run through the agenda with them. In some cases, I improvise based on the crowd at the ceremony.
Q:
As an officiant, how do you ensure the ceremonies are inclusive and respectful of diverse cultures and beliefs?
I always make it a point to communicate to the couples that the ceremony does not include anything religious. However, upon their request, I do adjust and include certain amendments to the ceremony. Mostly, if it's a ceremony for a couple from two countries, I do accommodate the requests of cultural traditions and rituals that need to be taken care of.
Q:
What have been the most significant lessons you've learned since starting this new career path?
Consistency and making sure that you are always reading and updated on the industry. So that you always have something new to offer. Nothing comes your way unless you work hard for it.
Q:
Do you have any plans for further expansion or growth in the wedding industry?
Apart from continuing what I do, I am looking forward to extending my services to destination weddings taking place across continents. Different cultures always excite me.
Q:
What legacy would you like to leave behind as a wedding emcee and officiant?
I want to be remembered as the best friend who made the bride and groom feel special and comfortable on their special day. Celebrating alongside them and cherishing these memories for a lifetime.