---
Post Covid-19, Sri Lanka is at the right juncture to rethink education
Education and human resources management should come under one ministry
Language is a starting point for some prime issues in Sri Lanka
People often confuse discrimination with freedom of expression
Communism and terrorism are political trump cards

Janagan Vinayagamoorthy is a Colombo district contestant from Samagi Jana Balawegaya

Q Your educational and professional qualifications?
Bachelor of Commerce (Special) Colombo University. Masters of Business Administration University of Wales, UK. LLB Hons Buckinghamshire University UK, Doctor of Business Administration, Lincoln University, Malaysia.
Q Vision for education of children and youth in Sri Lanka?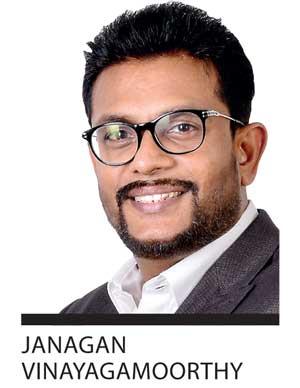 Sri Lanka is now at the right juncture to rethink the re engineering process of education industry. Covid-19 has entirely changed education platforms throughout the world. A technology based arena is now open. Technology brings education under its umbrella. Therefore I believe our education outlook should be on par with international standards. Basically Sri Lanka always prefers a conventional education system, which we have to move away from. All education and vocational institutes are now moving towards a technology based education.

Q Your thoughts on improving employment prospects of the young?
Sri Lanka considers education and human resources management as two separate fields. I believe we have to
integrate these two areas. My suggestion is for the education ministry and human resources management to come under one ministry, where you can provide education which can develop and empower employment prospects. I propose to bring school education, vocational education and higher education under one ministry to ensure connectivity between each field. Perhaps have a deputy minister for each discipline but one cabinet minister for education. This will prevent school education running on a different agenda, while vocational and higher education run on separate ones. This is a major limitation that I'm looking forward to deter in Sri Lanka.

Q Your views on entrepreneurship?
After A/L exams most students only 14% would be benefited from state universities. Another 30% would pursue private higher education. But both sectors don't empower entrepreneurship. We only provide higher education to get employment, not pursue entrepreneurship. We have to create a model and mechanism for entrepreneurship. Sri Lankans look at foreign countries for entrepreneurship models. I believe we have to create our own hub in Sri Lanka benefiting our locals, at the same time connecting the local and international sectors.
Most schools are segregated into Tamil or Sinhala medium studies. From there itself we are separating them
Q There is a language barrier for certain segments of society in trying to obtain state services. How could we change this?
The starting point for some prime issues has been language. Since we don't have a better understanding of language we have communication problems with each other, especially between Tamil and Sinhala people. Since the Sinhala Only Act, we have removed English education in Sri Lanka. Most schools are segregated into Tamil or Sinhala medium studies. From there itself we are separating them. If you want to change anything about the language, you have to start from the school. Language in schools are taught as a subject, not as a practice and not in par with the requirement.

One approach is to stop learning language, be it English, Sinhala or Tamil as a subject. Instead practice English language for example, so that the language can be used in any part of Sri Lanka to serve as a link language. I agree that students learning in their mother language is good. But you have to also change the practice of English as a subject.

The other approach is to learn the second language as a practice. Teach language in a practical environment where Sinhala people will then learn Tamil and vice versa. If it's practiced the language barrier can be removed, rather than teaching languages to police officers, teachers and government officers. There is no point in that because they're often not in a position to learn or practice the second language. Start these changes from school.

Q Reports have emerged indicating a resurgence of the LTTE, during this election period. Your thoughts?
The government in 2009 said that they have finished the war. So if they said that it's finished it is so. These stories are just for the election. These stories will emerge. But the Sri Lankan Tamil people have already decided that they don't need any war in future. Many Tamil people lost their lives, wealth and dignity. These stories are created by politicians for their agendas.

I want to stress here that it is because the Tamil people decided to stop the war only, that the war is no more. Otherwise there would have been no end to it. Tamil and Sinhala people decided to stop the war, not Mahinda Rajapaksa or Gotabaya Rajapaksa. Of course they have contributed to end the war, but the people were decisive.
They were tired of war and they don't want to see it once again.

Q Your views on politicians exploiting this issue for political gain?
Newcomers to parliament have to start talking about nation building. In other countries, politicians discuss future development. In Sri Lanka politicians will talk about the war, communism and terrorism. This is their trump card. This practice should change. I believe the young generation are very keen and smarter than these politicians. They would talk about new developments for Sri Lanka. That has to be a connecting point the election campaign, not terrorism. We will change this political system in Sri Lanka.

Q Your thoughts on discrimination based on sexual orientation?
This is happening all over the world. People often confuse discrimination with freedom of expression. Although there are people who deliberately discriminate, there are people who do it out of ignorance. They believe it's freedom of thought. Even these perceptions have to change through education and community involvement. We can't say that these things only happen in Sri Lanka, but I must say that Sri Lanka is far better than some other countries.

Q Why should people vote for you?
`I will focus on education and employment. We don't allow foreigners the opportunities for employment in Sri Lanka. We want to change that and create Sri Lanka as a good labour market, which is in demand all over the world. I want to create radicalization for Sri Lankan employment in the world. For that we have to create a mechanism and that is the major reason I'm entering politics.