---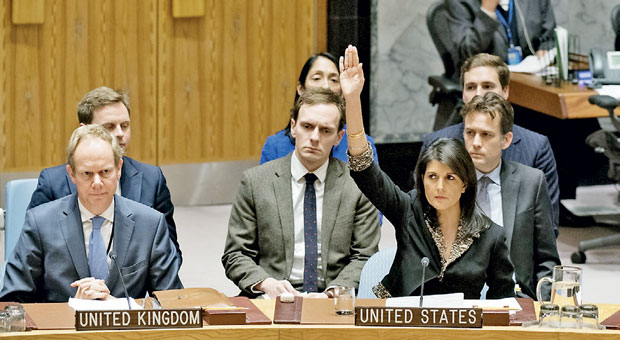 President Trump suggested Wednesday that billions of dollars in U.S. foreign aid could hinge on how countries vote on a U.N. resolution condemning his decision to recognize Jerusalem as Israel's capital and move the U.S. Embassy there.

In a Cabinet meeting at the White House, Trump said he would be "watching those votes" in the General Assembly when it meets in emergency session Thursday on the U.S. decision.

"They take hundreds of millions of dollars and even billions of dollars, and then they vote against us," he said. "Well, we'll be watching those votes. Let them vote against us; we'll save a lot. We don't care.Trump's remarks came after Nikki Haley, the U.S. ambassador to the United Nations, warned on Twitter that "the US will be taking names" of countries that support the resolution. And in a letter she sent to more than 180 U.N. ambassadors of member nations, she said she would report back to Trump on how they voted.

"We will take note of each and every vote on this issue," she wrote.

On Monday, the United States exercised its Security Council veto to block a resolution on the council declaring Jerusalem. Now, the nonbinding resolution is going to the General Assembly, where the United States does not have veto power.

Neither Trump nor Haley mentioned any specific countries that could be affected. Apart from Israel, only two other countries receive more than $1 billion in annual aid — Egypt and Jordan.
By Carol Morello Washington Post, December 20, 2017