---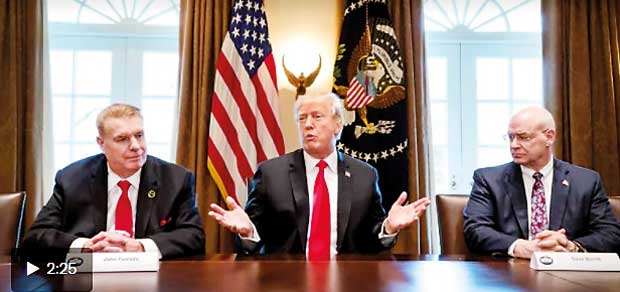 In his expanding war over global trade, President Donald Trump has aimed his harshest rhetoric at an unlikely target - the closest U.S. allies.

In Twitter posts while at his Mar-a-Lago resort in Florida on Saturday, Trump vowed to strike back at European leaders who said they would retaliate for his promised tariffs on aluminum and steel.
Bring it on, Trump warned.

"If the EU wants to further increase their already massive tariffs and barriers on U.S. companies doing business there, we will simply apply a Tax on their Cars which freely pour into the U.S. They make it impossible for our cars (and more) to sell there. Big trade imbalance!" he tweeted.

Instead, the biggest burden of Trump's new tariffs would be borne by Canada, the largest trading partner with the United States. The United States runs a trade surplus with Canada "The president is going to quickly find out that you can't start a trade war with your allies and expect them to work with you on other issues," said Jamie Fly, senior fellow at the German Marshall Fund. "The administration is squandering the little credibility they had with transatlantic partners at a time when they're asking them to help fix the Iran deal, fight terrorism and increase defence spending. It will not work."
By Steven Mufson, Damian Paletta (c) 2018,
The Washington Post · · Mar 04, 2018 -