---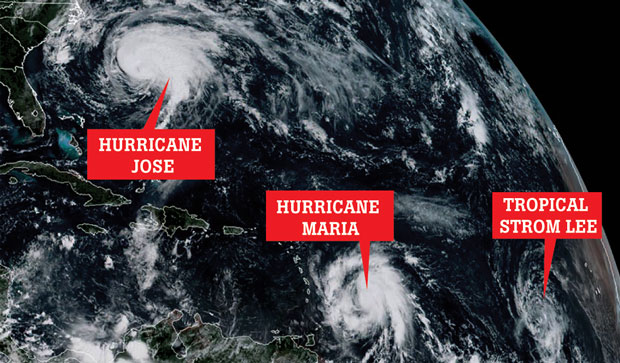 US, (Daily Mail), 18 September 2017 - The Caribbean, already suffering from the onslaught of hurricanes Harvey and Irma, is bracing itself for another attack - this time from the newly upgraded Hurricane Maria, which reached Category 1 status on Sunday.

Maria, formerly a tropical storm, is expected to follow almost the exact same path as Irma through the Caribbean, hitting the Leeward Islands on Monday.

It's then expected to continue to build strength until it hits Puerto Rico at Category 3 on Wednesday.
Meanwhile, Hurricane Jose - having concluded its swirl in the Atlantic - continues to intensify as it move towards the eastern seaboard from Virginia up, while Tropical Depression Lee continues to swirl in the Atlantic.Maria was upgraded to Category 1 status on Sunday afternoon, while it was around 140 miles off the east coast of Barbados.

Its windspeeds were registered at 75mph, while it continued to move inland at a rate of around 15mph.

Storm surges, high windspeeds and heavy rainfall are expected on parts of the Leeward Islands over the coming days.

Around 6 to 12 inches of rain could fall on the island, which include Puerto Rico and the US and British Virgin Islands.