---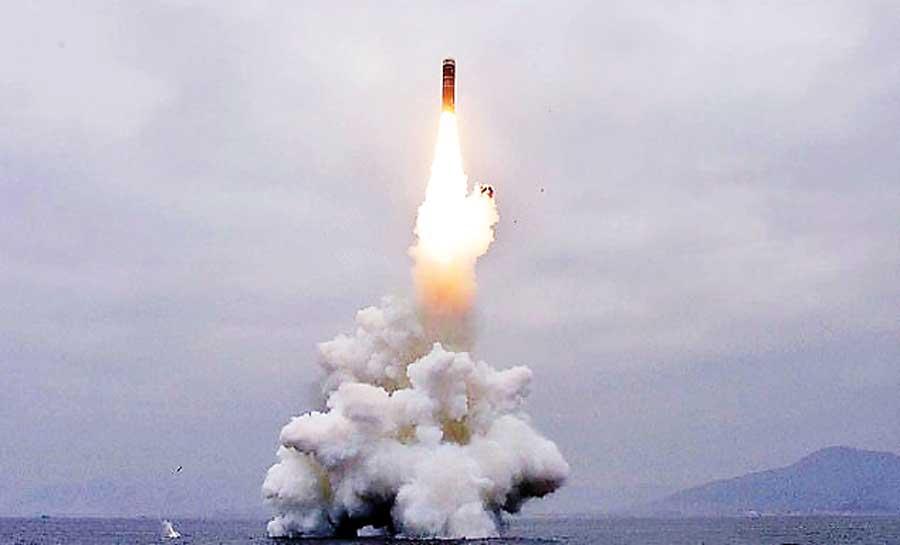 North Korea test-fired a 'new' submarine-launched ballistic missile, state media claimed today, just a day after Pyongyang announced it would resume nuclear negotiations with Washington.

It is seen by analysts as the most provocative test by North Korea since it started the talks with the United States to end its nuclear programme in 2018.

A submarine-based missile would take the North's arsenal to a new level, allowing deployment far beyond the Korean peninsula and a second-strike capability in the event of an attack on its military bases.

'The new-type ballistic missile was fired in vertical mode' on Wednesday in the waters off Wonsan Bay, the Korean Central News Agency reported. It identified the submarine-launched ballistic missile (SLBM) as a Pukkuksong-3.

Tokyo said a part of the missile landed in waters within Japan's exclusive economic zone - a 200-kilometre (124-mile) band around Japanese territory.

The North's leader Kim Jong Un sent 'warm congratulations' to research units involved in the launch, which 'had no adverse impact on the security of neighboring countries,' KCNA said.
Analysts say the missile is likely an intermediate-range ballistic missile with an actual flight range of around 2,000 kilometres.
N.Korea, (Daily Mail), 3 October 2019-