---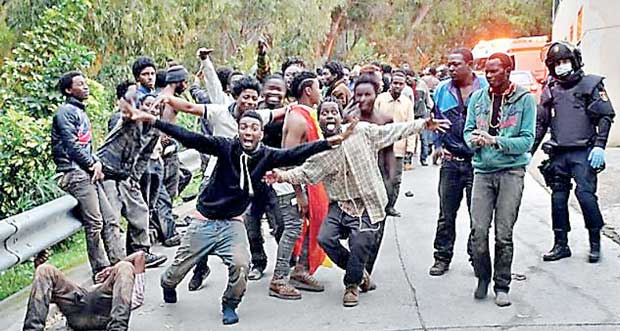 MADRID AFP Feb20, 2017
Some 300 migrants stormed the border between Morocco and Spain at Ceuta on Monday, authorities said, days after hundreds more forced their way over the frontier.

The young migrants climbed over the high border fence into the Spanish North African territory, ecstatic to have finally crossed into a European Union state.

Their arrival comes just days after nearly 500 migrants made it over the fence on Friday, one of the biggest entries since the border barrier was reinforced in 2005.

Ceuta and Melilla, also a Spanish territory in North Africa, have the EU's only land borders with Africa, so are entry points for migrants who either climb the border fence, swim along the coast or hide in vehicles.

The enclave has been ringed by a double wire fence eight kilometres (five miles) long. The six-metre high fence also has rolls of barbed wire.