---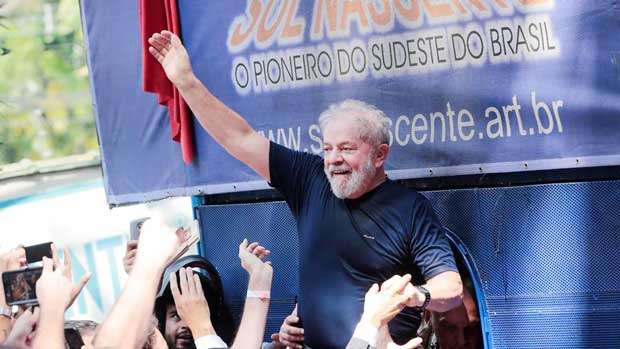 Rio de Janeiro (Hindustan Times), Apr 08, 2018 - Former Brazilian President Luiz Inacio Lula da Silva was spending his first night in jail, a stunning fall from grace for a man who rose from nothing to lead Latin America's largest nation and later became engulfed in corruption allegations.

Foreshadowing possible clashes in the weeks to come, police shot rubber bullets and sprayed tear gas late Saturday at supporters waiting for da Silva as he landed in a police helicopter in the southern city of Curitiba, where he will serve his 12-year sentence for money laundering
and corruption.

Just a few hours before that, da Silva had to have guards push their way out of a metal workers union in a Sao Paulo suburb so he could turn himself in to police; supporters were trying to keep him from going into custody.

Speaking to thousands of supporters at the union that was the spiritual birthplace of da Silva's rise to prominence, the former leader said would turn himself in so as to continue fighting a corruption conviction that he said amounted to a way for enemies to make sure he doesn't run — and possibly win — re-election in October.

When he first tried to leave the metal workers union headquarters, however, dozens of supporters blocked a gate where a car carrying da Silva was trying to exit.

Dramatic scenes throughout the day underscored the drama that has rapt a nation deeply divided on da Silva's legacy and whether he is guilty of corruption. The latest developments began when the Supreme Federal Tribunal, the country's top court, ruled against his petition on Thursday to remain free while he continued to appeal his conviction.