---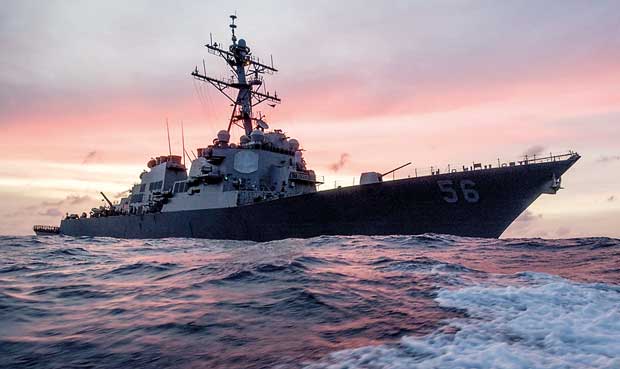 Ten U.S. Navy sailors are missing and five were injured after the USS John S. McCain guided missile destroyer and an oil tanker three times its size collided near Singapore early Monday.

This is the second time in two months that a Navy destroyer based at the 7th Fleet's home port of Yokosuka, Japan, has been involved in a collision at sea. Seven sailors were killed when the USS Fitzgerald collided with a container ship south of Japan in June.

American and Singaporean ships and helicopters are involved in a search-and-rescue mission after the pre-dawn collision at the entrance to one of the world's busiest shipping lanes.

The McCain, an Arleigh Burke-class destroyer equipped with Aegis missiles, had been on its way to a routine port visit in Singapore after patrolling in the South China Sea. Shipping data showed that the Liberian-flagged merchant vessel Alnic MC was also on its way to Singapore when the vessels collided east of the Strait of Malacca at 5:24 a.m. local time, while it was still dark. Initial reports indicated that the destroyer sustained damage to its port side at the rear, but is currently sailing under its own power and heading to port in Singapore.

By Anna Fifield
SEOUL, (c) 2017, The Washington Post · Aug 21, 2017