---

From left: UTE CMO Nalin Manorathne, UTE CEO Riyad Ismail, IESL President Engineer Jayavilal Meegoda, Young Members' Section Chairman Engineer Dayan Herath and University of Sri Jayewardenepura Electrical and Electronics Engineering Department Head Engineer Dr. Chamitha de Alwis
By Zahara Zuhair
In an attempt to promote innovation through the latest technology, United Tractor & Equipment (Pvt.) Limited (UTE) and Institution of Engineers Sri Lanka (IESL), the nation's apex body for professional engineers, invite applications for the Raspberry Pi Challenge 2017 competition, which is held for the first time.
The Raspberry Pi, launched in the UK in 2012, is a low-cost, high-performance microcomputer with a Linux-based operating system on a Micro SD.
With its flexible capabilities and affordability, the Raspberry Pi has the potential to enable a digital revolution and foster creative and independent computing in a way that downloading the latest app does not.
"We want to help the innovator to take his/her product to the market, to help the innovator to reach his/her full potential," the organisers said.
It will be open to undergraduates at the engineering faculties islandwide and young IESL members. The competition will be held under two categories, which are undergraduates and young members.
"Our goal in partnering the IESL in organising this challenge is aimed at promoting creativity and learning in science and technology among our youth," UTE Chairman Prasan Fernando said.
He said that while engineering is the focus in many of the youth programmes and professional learning efforts, they want to inspire the Sri Lankan youth to make a difference, from innovating to help the environment, to improving health and well-being, to dream big and bold for their future.
At the media briefing, it was requested from the media to give more space for innovations and inventions, to help them to progress and excel in their respective categories as well as to give more recognition to the international achievements received by the
Sri Lankans.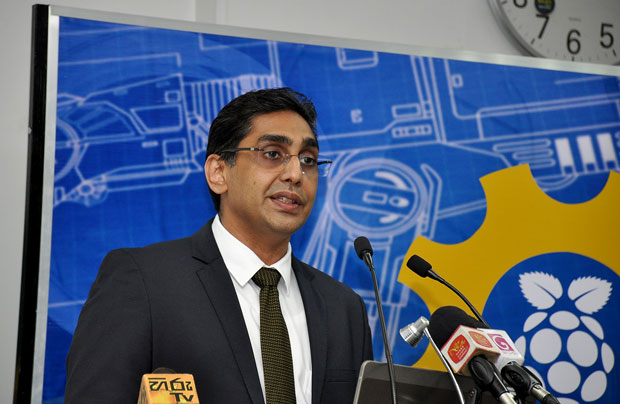 They said that if the necessary back up was given, it would help the country in the long run.
IESL-UTE Raspberry Pi Challenge 2017 seeks to provide the students a stimulating platform of innovative creativity and risk-taking through a combination of design and coding, inspiring Lanka's next generation of tech experts.
"Over the years, our young IESL students and youth have impressed us with their inventions. We believe the Raspberry Pi Challenge will be a revolutionary platform for young people to showcase their innovativeness and the power of technology to transform lives," IELS President Engineer Jayavilal
Meegoda said.
The organisers encourage interested youth to form a team (not more than five members) and to submit an innovative and creative proposal using the Raspberry Pi with the aim of developing applications that can create value for society and possibly commercially viable. The entry forms are available via www.raspberrypi.lk.
UTE will provide the selected teams a kit including the Raspberry Pi controllers and Rs.8,000 as expenses towards the project.
The judging panel will evaluate each project based on the novelty and innovativeness.
The closing date for the applications will be June 20, 2017. The award ceremony is scheduled to take place
in October.