---
By Yohan Perera and Lahiru Pothmulla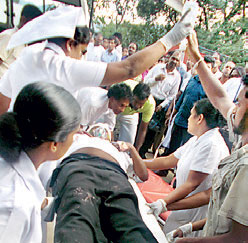 The United National Party (UNP) said yesterday it was contemplating on filing an election petition over the Uva Provincial Council election results and accused the United National Freedom Alliance (UPFA) of having engaged in incidences of election violence and election law violations during the campaign.
UNP parliamentarian Ajith P. Perera said election monitors like Peoples Action for Free and Fair Elections (PAFFREL) and Campaign for Free and Fair Elections (CaFFE) had evidence to prove that the UPFA had committed many election law violations.

He said the election results did not reflect the real will of the people as it had been influenced by election bribes and that the UNP would seek legal provisions to cancel the results.

"We cannot take an immediate decision but we will study the election law violations and violence committed by the UPFA. If it is proven that election laws had been violated, the results will have to be changed or we will have to hold the election again," he told a news conference held at Sirikotha.

Mr. Perera said the bribes distributed during the campaign was what helped the UPFA to narrowly win the UVA PC elections
"If not for the two bonus seats, the UPFA will only have a majority of two seats in the Council. It was able to secure even these two seats because of the UPFA campaign carried out by violating election laws," he said. Mr. Perera said government had distributed Rs.2,500 under the pretext of drought relief in the Moneragala District and a subsidy for tea plantation workers in the Badulla District as election bribes.

"We are not against government giving drought relief to drought victims across the country. The issue is that it was only distributed in Moneragala and that too during the election campaign," he said.

He said some of the 'bribes' were distributed even on Election Day in Passara and said it was a shameless move by a government in panic.
Mr. Perera said the government had secured a theoretical win but it was the UNP that secured the real victory.