---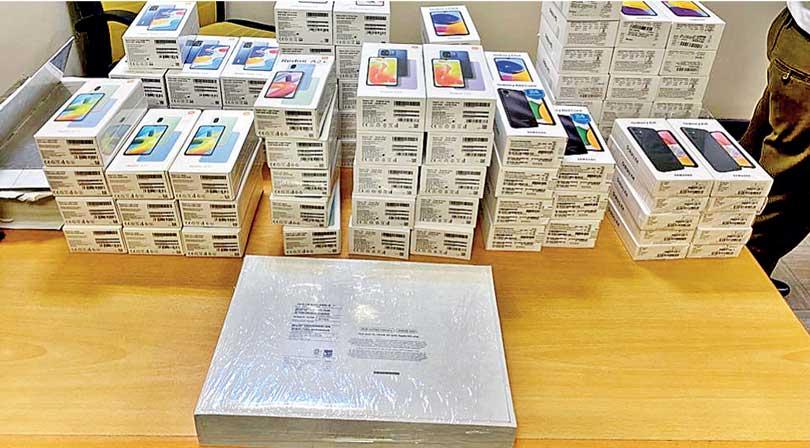 Third largest haul of gold in the last ten days at the BIA Arrival Terminal by Customs
By Kurulu Koojana Kariyakarawana and T K G Kapila (BIA)
In a startling discovery, Customs Revenue Task Force (RTF) officials thwarted an attempt by Puttalam District Parliamentarian Ali Sabri Raheem from smuggling in a large stock of gold and smart phones worth over Rs.78 million concealed in his personal baggage, at the VIP Lounge of the Bandaranaike International Airport (BIA) yesterday morning.
The MP along with his personal aide, another male passenger who had arrived in the country on a FlyDubai flight FZ547 around 9.45am yesterday returning from Dubai were taken into custody by a special Customs team of investigators, whilst trying to leave the airport through the VIP special privileges lounge with the contraband.

A senior Customs official at the BIA told the Daily Mirror a special Customs RTF team from Colombo rushed to BIA yesterday morning operating similar to a flying squad to apprehend the arriving Parliamentarian with information that the latter is accompanied with a large stock of gold. The sleuths found the MP's personal aide carrying no contraband but found gold weighing over three and half kilos both in biscuits and jewellery as well as 91 smartphones carefully concealed in the personal baggage of the MP. The gold alone was valued at Rs.74 million, whereas the smartphones were valued at Rs.4.2 million.

MP Raheem along with his assistant were then detained for over five hours at the BIA for the preliminary investigations before they were escorted in custody to the Customs RTF head office in Orugodawatta Grayline Yard.

A special Customs inquiry was underway last evening at the RTF head office, where further statements were to be recorded from the Parliamentarian and his assistant. MP Ali Sabri Raheem was the Puttalam District Organiser of All Ceylon Makkal Congress (ACMC), who now represents the Muslim National Alliance (MNA).
This comes in the wake of two similar detections of gold weighing two kilos in each case at the BIA Arrival Terminal in the last ten days.

The incident goes down in history as the second largest gold raid conducted at the VIP lounge. Prior to this, a UNP MP named Anura Daniel was taken into custody in 1978 with a large stock of gold at the VIP lounge. Numerous attempts made to contact Customs Spokesperson or any other senior official for formal statement over the detection was futile as none responded to repeated calls.