---
Mrs. De Silva's manager had informed Mrs. Senanayake that she had been placed fourth runner up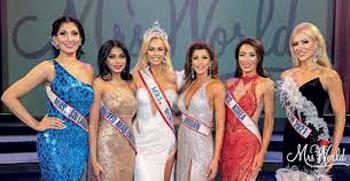 By Yohan Perera
Controversy has arisen with regard to the claim that Pushpika de Silva who represented Sri Lanka at the Mrs.World 2021 pageant had become fourth runner up and with an audio clip being aired over social media involving Ms.De Silva and Mayor of Colombo Rosy Senanayake.
Mrs.Senanayake charged that an unnecessary fuss has been made over the issue.

The clip depicts advice given by Mrs.Senanayake to Mrs.De Silva on what she should post on her face book.
Speaking on the issue Mrs.Senanayake said Mrs.De Silva's manager had informed her that she had become fourth runner up. "Her manager came and told me that Pushpika had become the fourth runner up. I then inquired from the organizers of the pageant and they informed me that they have scrapped the third and fourth runners up positions a few years ago.," Mrs.Senanayake said.

" I don't know why people should make an issue over this via social media. Pushpika only sought my advise on an effective way she should thank the Sri Lankan public and I just gave her some instructions.," she added.
The clip depicts advice given by Ms.Senanayake to Ms.De Silva on what she should post on her face book