---
Any person irrespective of their religion, race or political affinity could be infected with the virus
Even world leaders of powerful countries have become prone to the virus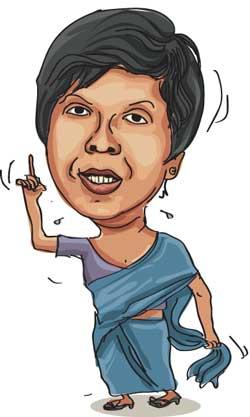 By Ajith Siriwardana
While condemning the humiliating posts shared by certain netizens in social media targeting Covid-19- infected- Health Minister Pavithra Vanniarachchi, State Minister Sudarshani Fernandopulle said such acts cannot be approved by civilised people.
She said in a Facebook post that any person irrespective of their religion, race or political affinity could be infected with the virus and that even world leaders of powerful countries have become prone to the virus.

She said not only the health officials but some medical specialists too had been infected with the virus. "We should understand this situation and it is our responsibility to take action to protect ourselves from the disease," she said.
The Minister said the first challenge Ms. Vanniarachchi had to face as the Health Minister was the Covid-19 pandemic and added that the endeavours she undertook to protect the people from the pandemic should not be forgotten.