---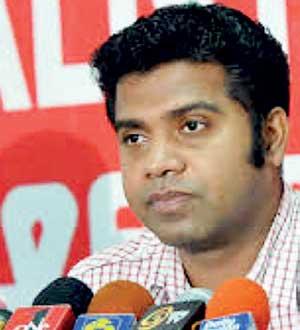 By Ajith Siriwardana
Former JVP MP Dr.Nalinda Jayatissa yesterday alleged that seven members of the Sri Lanka Medicines Regulatory Authority (NMRA) had been removed by the Health Minister for not approving the China's Sinopharm COVID-19 vaccine.
He told a news conference that the expert committee appointed by the NMRA to study China's Sinopharm COVID-19 vaccine has not approved it as the Chinese Company had failed to provide necessary details regarding the vaccine.

He said the expert committee had asked eleven questions from the Chinese Company for which it has responded only to one question.

Dr.Jayatissa said the Chinese Company has failed to provide information as to whether the vaccine had been tested for people above 60 years, about the test reports of the third stage of the vaccine and the report of the formation of antibodies after administering the vaccine. 'That is why the NMRA has not granted the approval to the Chinese vaccine.
He said when the expert committee refused to approve the vaccine, what the government and the Health Minister did was to remove seven members of
the NMRA.

Dr. Jayatissa said that if the government acted to use a COVID-19 vaccine which was not approved by the world and the NMRA, it would create short term and long term health issues.
"This is a serious situation. It will create short term issues in controlling COVID-19.In the long run,people will lose confidence on vaccination in the country.That happened in Philippine where a measles epidemic spread in 2019," he said.

Dr. Jayatissa said during a global pandemic such as this, the government should provide the people with the best vaccines recognised in the world.
"We warn the government not to play with people's lives. People should not fall prey to the conceitedness of the Ministers of the government," he said.