---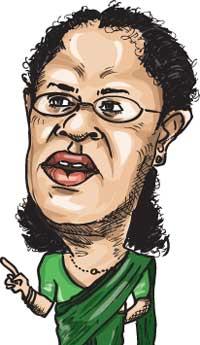 By Sandun A. Jayasekera
The UNP has no option but to field its deputy leader Sajith Premadasa as the presidential candidate because he is the only politician capable of winning the race, Justice and Prison Reforms Minister Thalatha Atukorale said.
"If Sajith was not given the ticket to contest the presidential poll, it will be like offering victory to rivals on a silver platter. If that's the case, then millions of voters looking forward to elect Sajith as the seventh executive President on November 16 will never forgive those who sabotaged the best opportunity for the UNP to elect its own President after two and a half decades. A severe electoral thrashing is imminent unless Sajith was given this golden opportunity to contest and win the poll. What will be the fate of the party and of those who denied UNP victory at the forthcoming presidential poll? I am dreading to anticipate the reaction of UNP supporters in such a scenario," she said.

She told Daily Mirror that a majority of Cabinet ministers, the UNP parliamentary group, almost all Tamil and Muslim political party leaders, civil societies and the general public demanded to select Sajith as the presidential candidate of the proposed UNP-led alliance, National Democratic Front (NDF), because they were well-convinced that it was solely Sajith who claimed the ability and acumen to take the NDF and country towards triumph.

"We do not have any hostility towards another UNP aspirant. But as seasoned and educated politicians who could feel the pulse of the people, we see what is in store for us if we were defeated at the poll. That is why we appeal to the UNP hierarchy to pay attention to what people demand. It is not difficult to fathom that Sajith stands a huge chance to win the presidential poll. Let saner counsel prevail in the UNP hierarchy to take the right decision in the next few days," she said.

On comments made by National List MP Ashu Marasinghe that disciplinary action has to be taken against SLMC leader and Minister Rauff Hakeem for alleged violation of collective responsibility in the Cabinet, she said other Cabinet colleagues would oppose such a move and stand for Minister Hakeem.