---
He said this should be done by meeting out justice to affected people
Some kind of welfare programmes and empowerment programmes for the people affected by the war should be implemented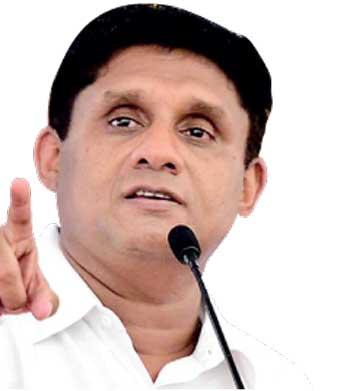 By Yohan Perera
Sri Lanka should prevent the repetition of war crime allegations by meeting out justice to the affected people, Leader of Opposition Sajith Premadasa said.
Mr. Premadasa said this in his address in Jaffna, during his visit to the North yesterday. He was responding to a northern journalist who asked about the disappearances and other incidents during the war.

"The issues pertaining to the war time incidents should be brought to an end after a solution is found through reconciliation, by implementing some kind of welfare programmes and empowerment programmes for the people affected by the war," he said.

Mr. Premadasa said a future government led by his party will work out such programmes.

The Opposition Leader who returned to Colombo yesterday participated in a Thai Pongal programme at his office.
Meanwhile he announced the opening of SJB Vihidum Balakaya (SJB Flying Squad) which would be engaged in finding solutions to the issues faced by youth. MP Hesha Withanage has been appointed as the Chairman of this programme and MP Chaminda Wijesiri its secretary.