---
have decided to close stalls until wholesale suppliers reduce their prices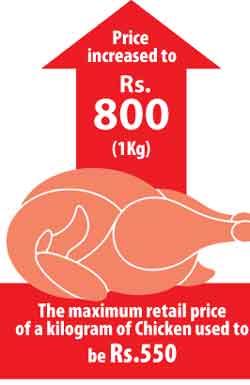 By Chaturanga SamarawickramaThe C
hicken Marketers' Association (CMA) yesterday said it was compelled to increase the selling price of chicken to Rs.800 per kilogram due to the price increase by poultry farmers.
The Chairman of the Association M. I. M. Iqbal said the wholesale price of a kilogram of chicken has shot upto Rs.700. Earlier, the maximum retail price of a kilogram of Chicken used to be Rs.550.

Since we cannot sell chicken for Rs.800, we have decided to close our stalls until the wholesale suppliers consider reducing their prices, Iqbal said. "We will not purchase chicken from the poultry farmers. Our Association held discussions with Minister Bandula Gunawardana, but no tangible solution was reached," he said. Therefore, during the oncoming festive season, consumers are bound to be inconvenienced by the scarcity of chicken in the market, the Association Head added.