---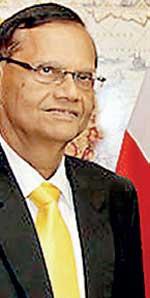 By Lahiru Pothmulla
The Provincial Council (PC) Elections which has been delayed for several years will be held before the end of this year, Senior Advisor to the Prime Minister, Prof. G.L.Peiris said.
Speaking at the weekly news briefing of the Sri Lanka Podujana Permanua (SLPP), its Chairman Prof. Peiris said PCs play an integral part in peoples lives though it has been neglected by the previous government. "According to the 9th Schedule of the 13th Amendment to the Constitution, PCs fulfil 36 responsibilities that directly make an impact on the people's livelihood. Elections are the right of the people, its their sovereign right," he said.
He said once the general elections are held in August, 2020, the new government would focus on the Provincial Council Elections. "We will hold the elections regardless of the outcome. Prime Minister Mahinda Rajapaksa known for always holding elections, sometimes even before the scheduled dates," he said.