---
They say that priority should be given to those more vulnerable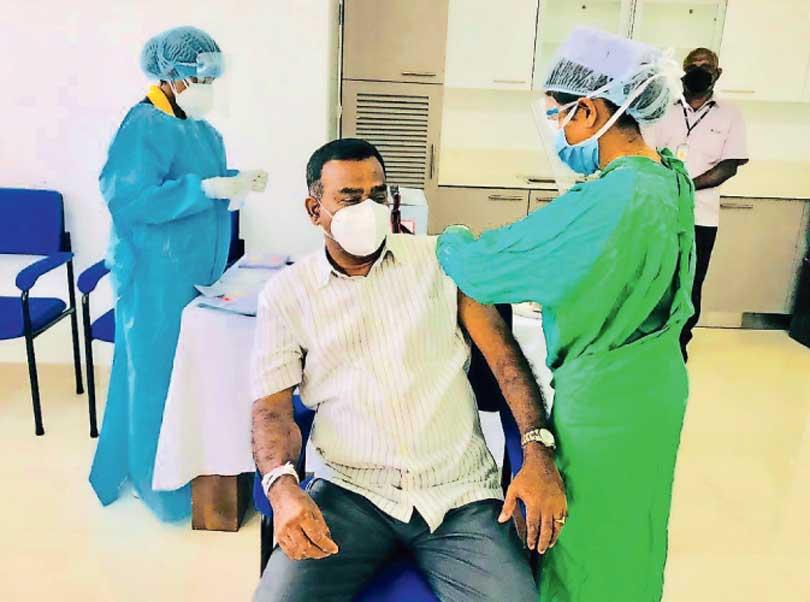 MP Tissa Attanayake being vaccinated yesterday
pic NIMALSIRI EDIRISINGHE
Around 19 MPs vaccinated yesterday
By Yohan Perera and Darshana Sanjeewa Balasuriya
Minister Mahindananda Aluthgamage and three SJB MPs Harin Fernando, Manusha Nanayakkara and Mujibur Rahaman declined to get the vaccine yesterday, saying those who are more vulnerable have to be given priority.
However 19 members from both government and the opposition were given the vaccine at the Army Hospital, yesterday. A decision has been made not to divulge the names of the MPs.
"I have not yet been vaccinated. I think we need to give this to people in high-risk areas first. We are politicians. We also have to be careful. Because if it infects one of us, it will spread. But I personally thought it would be good to give this opportunity to someone else at this time," Minister Aluthgamage said.

"I have decided not to take the Covid vaccine now. Our priority should be vaccinating most vulnerable groups and frontline workers. I will take it after at least 1 million people have been vaccinated," MP Harin Fernando said in a Twitter message.

SJB Galle District MP Manusha Nanayakkara said he decided to decline getting the vaccine as it was unfair for the MPs to get it free of charge as a parliamentary privilege when a priority list has been identified. "I have decided not to get vaccinated as my belief is that the priority list which has been prepared by the health authorities should be followed when giving the vaccine.

MP Mujibur Rahaman cited a similar reason for his decision not to get the vaccine. "I believe that those who have lost their livelihood as a result of the pandemic should be vaccinated first," he said.

However some opposition MPs including Tissa Attanayake were vaccinated yesterday.
All members of Parliament will be given the vaccine this week commencing from yesterday.