---
Nine suspects have been arrested so far in connection with the Keith Noyahr abduction case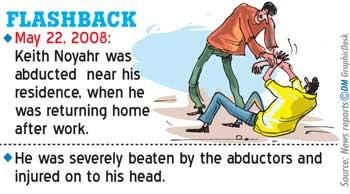 By Sheain Fernandopulle
Army Intelligence Staff Sergeant Chamika Sumith Kumara was arrested by the Criminal Investigation Department (CID) on Thursday over the Keith Noyahr abduction case, Police said.
He was arrested after he was summoned to the CID to give a statement in connection with this case.

He is also to be presented for an identification parade in relation to his alleged involvement in the assault of journalist Namal Perera.

Police said nine suspects have been arrested so far in connection to the Keith Noyahr abduction case.

Meanwhile, the Attorney General's coordinating secretary said the arrest was made following the instructions of the AG.
He is also to be presented for an identification parade in relation to his alleged involvement in the assault of journalist Namal Perera