---
Speaker Jayasuriya would resolve the issue this week through an arrangement which could be accepted by everyone including Leader of Opposition Sajith Premadasa.

I am not aware of any statement made by Mr Wickremesinghe to that effect. Our party members are free to make any comment as there is democracy in the UNP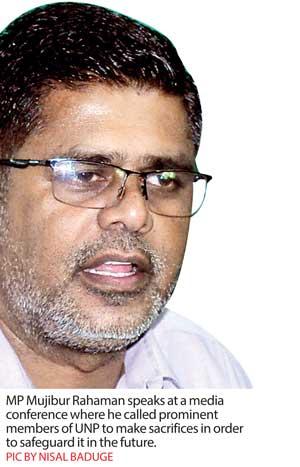 By Yohan Perera
Stating that Speaker Karu Jayasuriya would resolve the UNP crisis within this week, a UNP MP yesterday said that prominent members of the party should be prepared to make sacrifices to safeguard the party's future.
UNP MP Mujibur Rahaman told a press conference yesterday that Speaker Jayasuriya would resolve the issue this week through an arrangement which could be accepted by everyone including Leader of Opposition Sajith Premadasa.

"We trust that Karu Jayasuriya will resolve the issue within the party in the coming days and we hope to see an end to the party's current crisis," he said.
"Everyone in the party should be ready to make sacrifices for the betterment of the party."

Asked about the statement that has been made by UNP leader Ranil Wickremesinghe that he would remain as the leader till 2023, MP Rahaman said he was not aware that Wickremesinghe had made any such statement.

"I am not aware of any statement made by Mr Wickremesinghe to that effect. Our party members are free to make any comment as there is democracy in the UNP, unlike other parties. However, the crisis within the party should end as soon as possible," he said.

MP Rahaman who referred to a statement made by Prime Minister Mahinda Rajapaksa that Sri Lanka would borrow $ 1 billion from China, questioned as to how the country would settle this amount in the future.

He charged that several lands had been handed over to foreign companies.

This he said included a three-acre land near Shangrila Hotel, while several small plots of land down the D. R. Wijewardene Mawatha were also going to be handed over to foreign
companies shortly.