---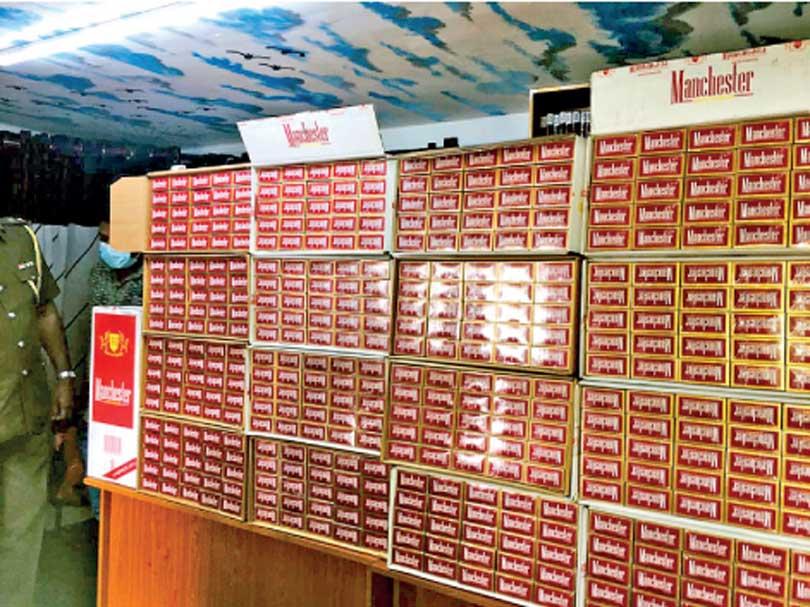 The cigarettes brand named 'Manchester', is produced in the UAE
By Kurulu Koojana Kariyakarawana
A large stock of counterfeit cigarettes worth over Rs.17 million, which was suspected to have been smuggled from Dubai was seized by the Maligawatta Police yesterday.
Officials of the Maligawatta Police Vice Branch on information nabbed a man who was transporting a stock of illicit cigarettes in a trishaw.

Having questioned him the police seized another large stock of cigarettes of the same brand from an apartment in Maligawatta Flats.

According to police sources the seized cigarettes belonged to a brand named 'Manchester', which is produced in the UAE and which the sale in Sri Lanka is prohibited. The police suspect the person arrested with the stock of cigarettes had received the contraband from a secret party that is involved in the international racket.
The seized stock of cigarettes is suspected to have been smuggled into the country through sea cargo considering the size of it and the detectives believe whether it had been leaked out of a container under the nose of the Customs officials.

The cartons consisted of 270,000 sticks, which the entire stock is valued at Rs.17,550,000.
OIC Maligawatta Vise Branch Sub Inspector Udaya Kumara and the team are conducting investigations.
The arrested suspect along with the contraband and the trishaw will be produced in courts today.
Officials of the Maligawatta Police Vice Branch nabbed a man transporting the cigarettes in a trishaw