---
75 more Omicron cases identified from 18 areas
Various groups make false opinions on vaccines
Only 23 percent received the booster dose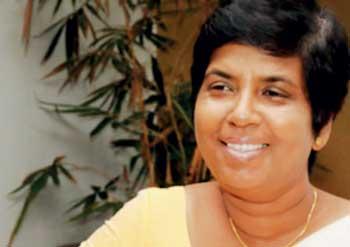 By Sheain Fernandopulle
Expressing serious concern over the vaccine hesitancy which continues to grow, Health authorities said the booster shot is key to protection from the highly contagious Omicron variant.
State Minister of Primary Health Care, Epidemics, and COVID-19 Disease Control Dr. Sudarshini Fernandopulle said various groups including lawyers are now seen expressing viewpoints about COVID vaccines, misleading the general public.

"I cannot express opinions on something related to law as I am not from that field. I am qualified only in the field of medicines," she told reporters. "Therefore, those who have zero knowledge on vaccines and medicines should abstain from speaking about them, as it could paint a wrong picture about vaccines and thereby discourage people to get their relevant dose," she emphasised.

In a situation where a number of COVID cases is on the rise, Dr. Fernandopulle said that the people should make sure they get the all-important vaccines in due time. "At least 63% of total population has been given with both the doses. However, what's worrying is that only 23% has received the booster dose," she pointed out.
Thus, Dr. Fernandopulle requested people to get the booster dose without getting carried away and deceived by myths and misconceptions.

Meanwhile, a total of 75 more cases of Omicron COVID variant have been detected from 78 samples in Sri Lanka. According to Dr Chandima Jeewandara from Sri Jayewardenepura University, these cases were confirmed in the genetic sequencing carried out in their labs. "These 78 samples were sequenced from the 1st 2nd and 3rd weeks of January from the community." Dr Jeewandara said.Accordingly, these new cases bring total cases of Omicron so far detected in the country to 283.

In addition, the 78 Omicron cases include a mix of the two main Omicron lineages BA.1 and BA.2. Accordingly, 56 cases of BA.1 were detected in Colombo, Avissawella, Borelesgamuwa, Homagama, Katugoda, Kosgama, Madapatha, Padukka, Parakaduwa and Wellampitiya while 12 cases of BA.2 were detected in Avissawella, Badulla, Colombo, Galle, Mt Lavinia, Nugegoda, and from one passenger from India.

Also, seven cases of B.1.1.529 Omicron were detected in Angoda, Colombo, Ruwanwella, Mt Lavinia, Nugegoda and Padukka.
Dr. Fernandopulle requested people to get the booster dose without getting carried away and deceived by myths and misconceptions