---
Says people's safety more important than privacy
People subjected to home quarantine slipping out of homes discreetly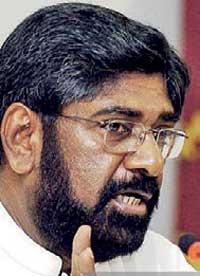 By Easwaran Rutnam
The Government yesterday insisted that it will continue to use drones in its fight against Covid-19 despite concerns raised over the cost of the process and a possible infringement of privacy.
Cabinet spokesman Keheliya Rambukwella said that the Government was prepared to do what is required to control the spread of the virus.

Speaking to reporters at a virtual media conference, Rambukwella said the main reason behind the decision to use drones was that some people under home quarantine slipped out of their homes, often went unnoticed.
"We have heard people in housing schemes placed in isolation saying they slipped out. So in instances like that we need to use drones," he said.

Asked about the violation of the privacy of the public by flying drones over private property, the Minister said that more than the privacy of the individual the safety of others also arises. He said that if a person is ordered to stay indoors and that person mingles with people in society that person is posing a threat to several people. As a result, Minister Rambukwella said that it is the duty of a responsible Government to act swiftly and make arrangements to curb such movements.
More than the privacy of the individual the safety of others also arises