---
At least container labs should be made available as an interim measure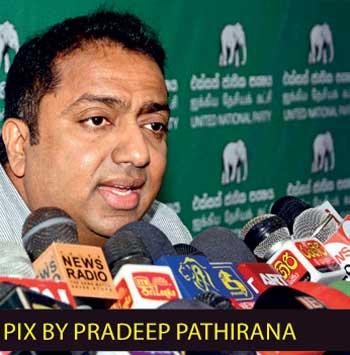 By Yohan Perera
Sri Lanka still lacks necessary equipment to carry out experiments on Coronavirus and there are certain steps that have to be taken in this regard, United National Party (UNP) said yesterday.
UNP General Secretary Akila Viraj Kariyawasam told a press conference yesterday that Bio safety level 3 (BSL 3) laboratories are needed to experiment the blood and other bodily fluid samples when it comes to Coronavirus to ensure the disease does not spread among the lab experts. "Such facilities are still to be available in Sri Lanka. Sri Lankan authorities should see to it that such facilities are available in the country," Mr. Kariyawasam said.
"At least container labs should be made available as a shorter measure," he added.

Also he said N95 masks have to be made available especially to medical officers as other kind of masks are not sufficient to prevent one's self.

Coming up with another suggestion the UNP General Secretary said Chinese expatriates should be subject to medical screening in China itself before they come to Sri Lanka as there are better screening equipment available in that country. "Several other countries such as Australia have begun getting China to screen its people before going abroad," he said in this regard. Mr. Kariyawasam who is the former Minister of Education said its better for the school principals to stop educational trips temporarily till the situation is controlled.