---
Certain symptoms like fever, muscle pain can be seen both in COVID and dengue as well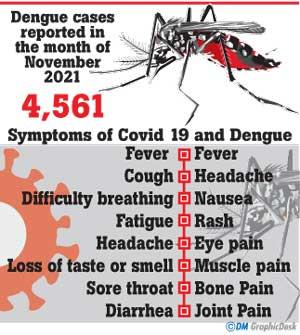 By Sheain Fernandopulle
A total of 4,561 Dengue cases reported in the month of November 2021, make it the highest number of cases recorded in 20 months.
Dr. Shilanthi Seneviratne from the Dengue Control Unit told Daily Mirror that a drastic increase in dengue cases was observed due to the incessant rains which occurred within last two months.

"We as the Dengue Control Unit have been monitoring the situation and taking relevant measures like prevention programme educating the people so that the damage could be mitigated," she said.

"People should also be alert of the fact that some symptoms like fever, muscle pain can be seen both in COVID and dengue as well," she underlined.

Thus, Dr. Seneviratne urged people to immediately seek medical advise before drawing to their own conclusions.

Meanwhile, over 117 dengue patients were identified yesterday alone (01).
4,561 Dengue cases reported in the month of November 2021
A drastic increase in dengue cases was observed due to the incessant rains which occurred within the last two months