---
He said that he did not mean that Prime Minister Mahinda Rajapaksa should be removed from the SLPP leadership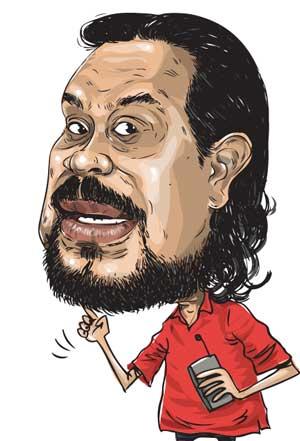 By Sheain Fernandopulle
Industry Minister Wimal Weerawansa responding to the controversy over remarks made by him regarding the Sri Lanka Podujana Peramuna (SLPP) leadership, said that what he meant in his newspaper interview was that President Gotabaya Rajapaksa should be appointed to a key post of the SLPP.
The Minister who is the leader of National Freedom Front (NFF) said that he did not mean that Prime Minister Mahinda Rajapaksa should be removed from the SLPP leadership .
He made those remarks in response to the journalists who asked him about the SLPP demanding a public apology over what he had said . "The SLPP is the main party in the ruling alliance . I meant that the President should hold a key post in it while the Prime Minister remains the leader . If the President is appointed to a key post , it will help develop better ties with the alliance partners. That is what I meant," he said. He said he would apologise to the people if somebody dared to interpret his past political moves and tireless efforts as wrongful deeds, in promoting Mr. Mahinda Rajapaksa as the Presidential candidate in 2005 and Mr. Gotabaya Rajapaksa in 2019. He said that he defected from the JVP when it acted to sabotage the war effort in 2008 and the initiative role in 'bring back Mahinda 'programme in 2015.