---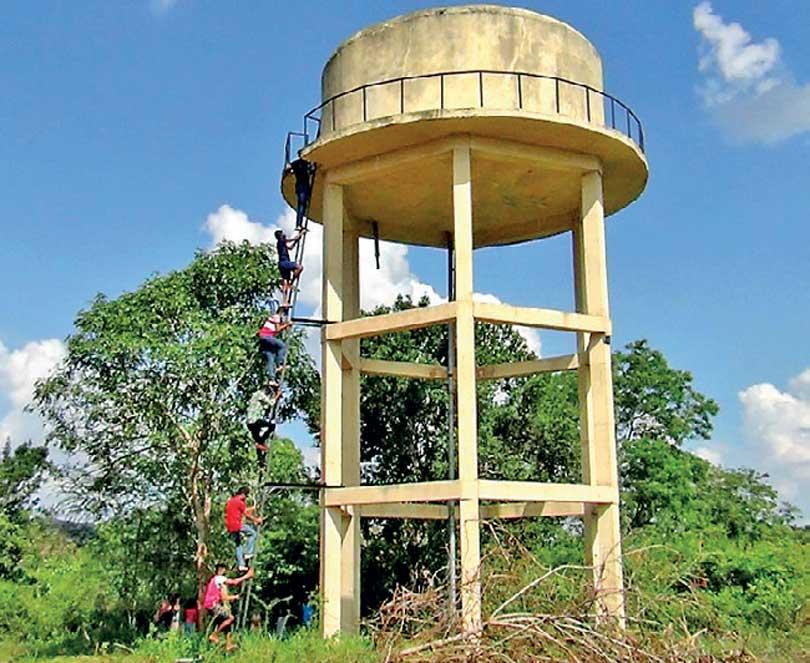 Children in the village carry their books and mobile phones to the water tank in the morning and do their online education
The biggest obstacle for Moragahawewa children to study online lessons through their mobile phones is the lack of cellphone signal waves in many areas including Moragahawewa
By Hiran Priyankara Jayasinghe
In the village of Moragahawewa, Nawagattegama, a group of children were seen climbing into a 60 feet high water tank every day for their education in the face of the ongoing corona pandemic.
With the corona pandemic in schools and private tutoring classes, these children have to study online through mobile phones as there is no other option for them to study the GCE O/L and GCE Advanced Level streams. However, the biggest obstacle for Moragahawewa children to study online lessons through their mobile phones is the lack of cellphone signal waves in many areas including Moragahawewa.

Moragahawewa is located at a distance of 10 km from Nawagattegama town and the people of this village have to run to places where there are telephone signals to get even an urgent phone call. However, the children say that they have to climb into the 60 feet high water tank, the highest point in the village, to study online through the phone that their parents brought with them the money they earned by cultivating the land for their education.
They say that children in the village carry their books and mobile phones to the water tank in the morning and do their online education because there is no other option. These children climb the ladder to the water tank in the morning with great difficulty, study for a few hours and then go home for lunch.

The children say they always come across wild elephants on the road to school and therefore they have to come back home before dusk. At a time when politicians are talking about digital technology, these children are dreaming of when they will be given the facilities to continue their online education.