---
The two accused were released on cash bail of Rs. 500,000 and two sureties of Rs. 5 million each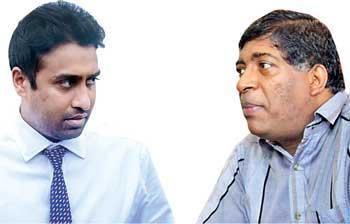 By Yoshitha Perera
Former Finance Minister Ravi Karunanayaka and Perpetual Treasuries Limited (PTL) owner Arjun Aloysius were granted bail after they were served indictments on six counts by the Colombo High Court over a Bribery case.
The case filed by the Bribery Commission (BC) was taken up before Colombo High Court Judge Aditya Patabendige. The two accused were released on cash bail of Rs. 500,000 and two sureties of Rs. 5 million each.
The BC alleges that former Finance Minister Ravi Karunanayaka had solicited a bribe while serving as a public servant from February 12, 2016 to September 30, 2016 by staying at 5PH2 apartment of Monarch Housing complex which was owned by PTL owner Arjuna Aloysius. The Commission alleged that the former Minister had accepted a gratification from second accused Arjuna Aloysius while purchasing an apartment in Kollupitiya for Rs. 11.68 million using the cheques issued by Walt and Row Associates and Perpetual Capital Private Limited.
Second accused Aloysius was the director and owner of Perpetual Treasuries Limited and he was charged under Section 19 (c) of the Bribery Act for aiding and abetting the process.

The plaintiff has named 58 individuals as witnesses in the case and 32 documents as case productions.
The plaintiff has named 58 individuals as witnesses in the case and 32 documents as case productions
The former Minister had accepted a gratification from second accused Arjuna Aloysius while purchasing an apartment in Kollupitiya for Rs. 11.68 million