---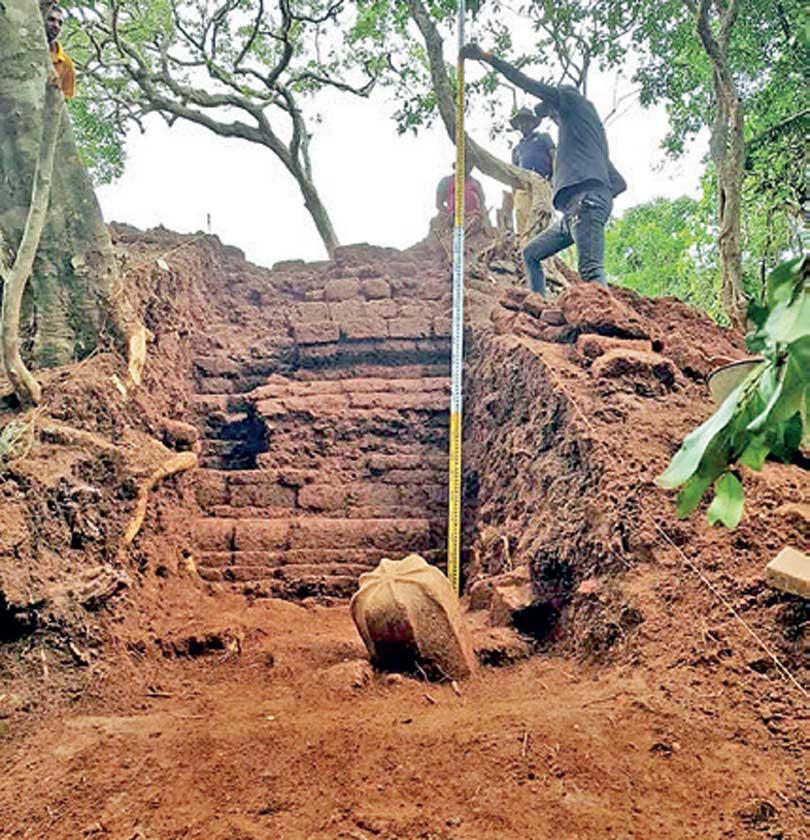 Findings dated back to the 1st and the 2nd centuries of the Anuradhapura era
Excavations in the 87- acre- archaeological site commenced in November 2020 with the help of the security forces
By Romesh Madusanka
The Department of Archaeology has launched an excavation project in the Kurundimalai archaeological site in Mullaitivu. And the findings so far unearthed included the remains of two Stupas, one built of kabook, and the other of bricks , an inscription, rock pillars, moon stones and an ornamental stone at the entrance to the Stupa built of kabook.
3 Archaeological officers said the findings dated back to the 1st and the 2nd centuries of the Anuradhapura era.

Vavuniya District Asst Director of Archaeology R.G.Jayatilleka said the structure built of kabook, was about 6.70 metres from the ground, and that it had emerged to a height of three metres during excavations. However he said it was not possible to decide on the exact height of the Stupa until further excavations. He said only about two feet of the ornamental stone at the entrance had emerged during excavations and more was still buried underground.