---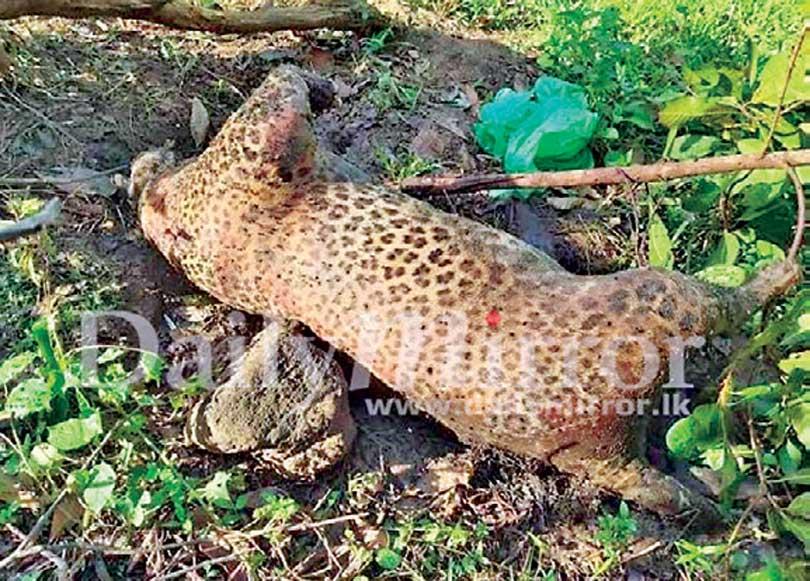 By Sheain Fernandopulle
Hot on the heels of the death of a rare black leopard at Nallathanniya, another leopard, which was caught in a snare set up at a private land in Neluwa, Galle was found dead yesterday, Wildlife Conservation Department Director General M.G.C. Sooriyabandara said.
He told Daily Mirror that they would take legal action against the owner of the land.

"The leopard was first captured by a wildlife officer who subsequently informed the relevant officials," Mr. Sooriyabandara said. "The postmortem examination will be carried out by veterinarians attached to the Wildlife Department." Wildlife Health Director at the Department of Wildlife Conservation, Dr. Tharaka Prasad told Daily Mirror the carcass was at least five days old.

"Its teeth had also been removed," he said. This leopard becomes the third to become a victim to a snare within four days.

The Sri Lankan leopard (Panthera pardus kotiya) is a subspecies native to Sri Lanka first described in 1956 by Sri Lankan zoologist Deraniyagala.

The survival of the Sri Lankan leopard is threatened because of habitat loss and poaching.

Meanwhile, Mr. Sooriyabandara said another leopard that was caught in a snare was released after by the wildlife officers at Yatiyanthota three days ago.

"There were no injuries at the time it was rescued," he said.
The postmortem examination will be carried out by veterinarians attached to the Wildlife Department