---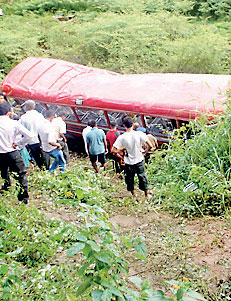 By Ajith Siriwardana & E.B. Ekanayake
At least one person was killed and 63 others injured when a CTB bus plunged down a 150-metre deep precipice at the Rambukwella Junction on the Kandy-Mahiyanganaya Road in Teldeniya last evening, police said.
A Teldeniya Hosp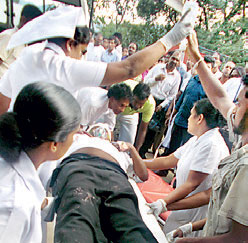 ital spokesman said the injured passengers were admitted to the Teldeniya Hospital while 46 of them who were in a critical condition were transferred to the Kandy Hospital.
The bus was travelling from Wekanda to Kandy at the time of the tragedy.
Pix by Bandara Ekanayake