---
Says proper plan in place to control COVID-19 situation
Says a budget, key priority of new government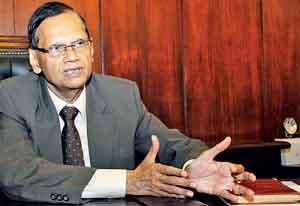 By Lahiru Pothmulla
Sri Lanka Podujana Peramuna (SLPP) Chairman Professor G.L. Peiris yesterday said those who are afraid of facing the elections use the COVID-19 situation as a scapegoat to get the General Elections postponed.
Speaking at the weekly SLPP news briefing, Professor Peiris said a proper plan was in place to mitigate the COVID-19 situation and the health authorities are taking all necessary action accordingly.
He said it was not practical to prevent risks 100 per cent and the people should not take the situation lightly. "All steps and guidelines necessary must be taken, but at the same time there is no need to create a panic situation," he said.
He said some people, who know that they are not winning the General Election, use the COVID-19 situation as a scapegoat to get the elections postponed.
"Resorting to get the polls postponed is the simplest theory they have. If polls are held, they will lose without a doubt. In order to avoid defeat, they need to avoid polls. That's why they have been postponing elections. We already know the results. The SLPP won the Local Government election with a landslide victory," Professor Peiris said.
He said the government's priority is to protect the people and their health.
"Health authorities say action has been taken to mitigate the COVID-19 situation and the government follows their instructions. This is a humble government and not a know-it-all government. Some politicians recommend medicines for illnesses, but we are not like that. We follow the recommendations made by the health authorities. We are confident that we can control it," he said.

Meanwhile, Prof. Peiris said the new government will make preparations to present a budget for the rest of the year 2020 following the General Elections. He said a Vote on Account (VoA), as suggested by SLPP organiser Basil Rajapaksa, would be presented soon after a new government was established but added it was to be in effect until a Budget was presented.

"We will have a VoA until a budget is finalised. A final decision will be taken by the new Cabinet. The budget will take priority of a new government as a VoA has limitations. A main objective of the budget will be to provide concessions to the public We have allocated Rs. 60 billion for this purpose," he said.
It was not practical to prevent risks 100 per cent