---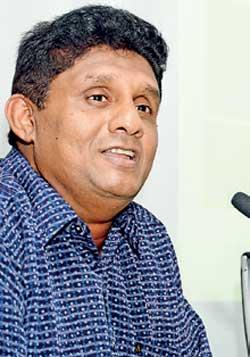 By Yohan Perera
Leader of the Opposition Sajith Premadasa who met several foreign diplomats yesterday said his meeting with them will help the nation to benefit, economically, socially during the ongoing pandemic.
"My meeting with the diplomats was not aimed at harming the nation but to ensure that it will gain some benefits. The diplomats whom I met were from Europe and they were willing to assist our country. However, the government should maintain a sound relationship with them," Mr. Premadasa told journalists after the meeting.

"My discussion with the diplomats was a broad one where we discussed the current pandemic situation, civil protests, political, religious and cultural rights of the Sri Lankan people and ways and means to safeguard these rights. We agreed that Sri Lanka is not a single party state but a multi-party state and that democracy should be safeguarded in the nation," he added.

He said the discussions also extended to obtain the COVID -19 vaccines. " We discussed on the shortcomings with regard to availability of vaccines in Sri Lanka," he said,

SJB MPs Harsha de Silva and Eran Wickremaratne accompanied the Leader of the Opposition while Ambassador of European Representative Dennis Chaibi, French Ambassador in Colombo Eric Lavertu, Italian Ambassador in Sri Lanka Rita Giuliana, German Ambassador Holger Seubert and the Romenian Ambassador Victor Chiujdea participated in the meeting.
We agreed that Sri Lanka is not a single party state but a multi-party state and that democracy should be safeguarded in the nation