---
If people fail to adhere to health guidelines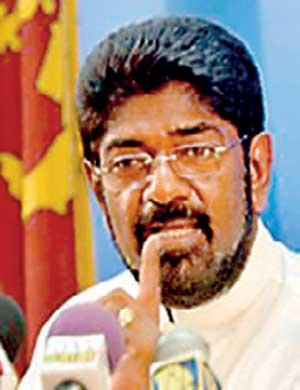 By Sandun A. Jayasekera
If the people fail to adhere to health guidelines, the government has no option but to further reinforce safety regulations that would make life difficult, cabinet spokesman Keheliya Rambukwella said yesterday.
The government is fully committed to keeping the COVID-19 pandemic at bay and take all measures possible to prevent it from spreading in epidemic proportions, but the community also has a national duty and responsibility to assist the government by strictly adhering to safety guidelines and protocol, he added.
"The government does not want to beef up health regulations to control the escalation of COVID-19. We try our best to keep the pandemic under control through existing safety regulations and security protocol as we controlled the first and second waves of the viral infection. But, though reluctantly, we will have to take unpopular measures if people behave irresponsibly and let pandemic becoming a health disaster," Minister Rambukwella stressed.
In response to a journalist at the weekly cabinet news briefing last afternoon, Minister Rambukwella admitted that the government failed to impose strict health guidelines during the New Year which people gather in thousands to celebrate the festival.

"We were aware that there was a risk of the spike of the pandemic after the festive season. People attended shops and markets in thousands to purchase goods. They also attended New Year festivals and the sudden increase of the caseload of COVID-19 is the result, he said. Responding to another question, Minister Rambukwella said the disclosure in social media that certain private parties accept Indian nationals for 14-day quarantine stints in Sri Lanka was a 'total lie' and added it was politically fabricated misinformation.

President Gotabaya Rajapaksa's meeting with people under the 'Gama Samaga Pilisandarak' (a dialogue with the village) and Opposition leader Sajith Premadasa's same programme with the people also pose a health risk, Minister Rambukwella also said. He assured that Sri Lanka has ample oxygen and ICU beds to treat COVID-19 patients.