---
People don't expect the return of the 'white van' culture, abductions and misappropriation of public funds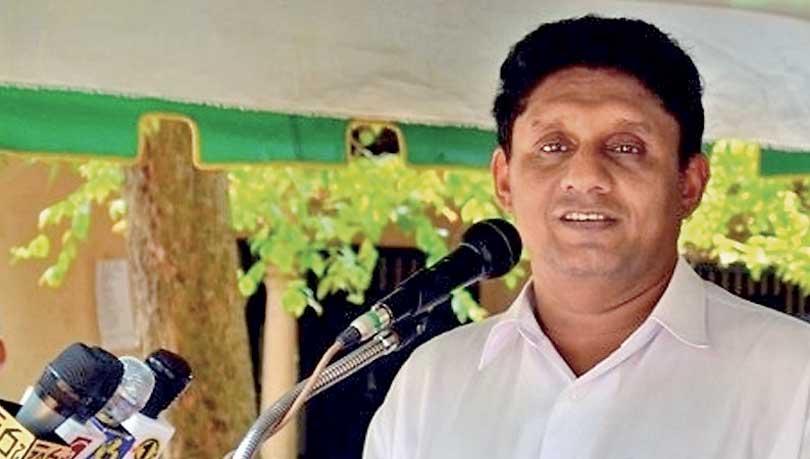 Underscores need to reinvigorate tea industry
A full stop will be marked on nepotism and State terrorism
By Sandun A. Jayasekera
New Democratic Front (NDF) presidential candidate Sajith Premadasa asked the people to vote for his rival at the forthcoming election if the country needed law of the jungle, State terrorism, media suppression and repression of personal liberty.
"If the people of this country expect a powerful economic programme that will give a steady income to the family, a decent roof above their heads, a better school to the kids, a permanent job with a greater salary, a good price to your crops, then vote for the Swan symbol," he said addressing an election propaganda rally held last Sunday at the Diyatalawa Pradeshiya Saba ground.
Says tea industry will undergo a complete overhaul in the first year of his rule

"I will take apt measures to modernise the tea industry to further increase exports and penetrate new markets where Ceylon Tea is not so popular. We will have to reinvigorate the tea industry. If we follow a pragmatic approach, modern technology and a robust trade and marketing strategy on tea, then giving a 50% wage hike to those employed in the industry is not an arduous task. A system to share profits of tea plantation companies with estate workers will also be introduced. The tea industry will undergo a complete overhaul in the first year of my rule to achieve these goals.

"The people of this country desire a change desperately; a change for a clean, corruption-free administration that upholds personal liberty and dignity of each and every citizen. They don't expect the return of the 'white van' culture, abductions and misappropriation of public funds. They don't want to get fired upon when engaged in peaceful protests. The people don't want rulers with blood in their hands, bank accounts stashed with filthy lucre or an administration that takes decisions at the breakfast table. A full stop will be marked on nepotism and State terrorism," he said.

Minister Premadasa said he would set up industrial zones in every division to provide employment to the youth.

"A system will be put in place within the first six months after consulting the Central Bank as well as private and State sector commercial banks to save low-income families from the traps set on them by micro-finance companies. A new soft-loan scheme will be introduced to develop domestic industry and self-employment," he said.
If we follow a pragmatic approach, modern technology and a robust trade and marketing strategy on tea, then giving a 50% wage hike to those employed in the industry is not an arduous task