---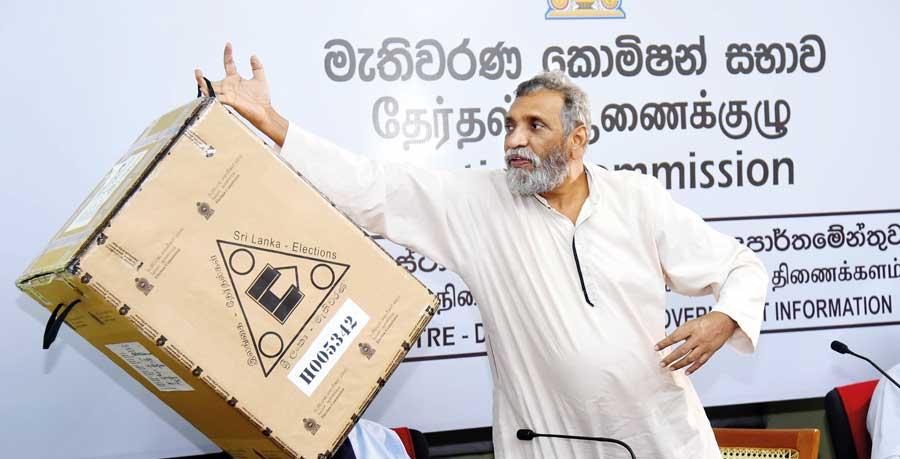 Pix by Samantha Pererea
By Sandun A Jayasekera
The Elections Commission (EC) would be able to announce the winner of the Presidential poll 2019 in the morning of November 17 and if none of the top two candidates fail to obtain 50%+ votes for an absolute majority, the releasing of the final results would be delayed till dinner time of the same day, Chairman of the EC, Mahinda Deshapriya said yesterday.
Mr. Deshapriya added that if the EC was led to count preferential votes to decide the winner, the results could be announced by November 17 night.

Explaining the tedious and complex election process to the media at his office yesterday, Mr. Deshapriya said due to the long list of Presidential candidates in the fray at the Presidential poll – 2019, the EC had to use three varieties of reinforced cardboard boxes for small, middle sized and extra large polling stations.

"For small polling stations with less than 1,000 votes we will use small boxes, 1,000 – 1,500 polling stations middle size boxes and extra large boxes for polling station with more than 1,500 votes," he added.

Mr. Deshapriya said the EC has put in place a water tight anti-malpractice and fool proof mechanism to prevent so called 'computer gilmart' or election malpractices like stuffing of ballot boxes and impersonation etc.

"The ballot boxes will be thoroughly inspected by election officials and agents of each and every candidate sealed before the polling starts. After the election or filling of the ballot box, same procedure will be followed. The ballot box once against taped and sealed again with the seal and signature of agents of candidates, Chief Presiding Officer and other election officials before dispatching them to the counting centers in a water proof bang under armed guard," he added.

Ballot papers will be first counted by each box and tally with the report sent from the polling station to ensure the correctness of ballots polled at a particular polling booth. Then ballots of all boxes will be mixed and count to take the total number polled and then after ballots will be sorted under each symbol and bound in 50 bundles. The number of ballots polled by each candidate or party will be decided after counting ballots in bundles of 50 votes.

"Each and every stage there will be double checking of ballots at the polling centre level, constituency level, district level, provincial level and national level from villages, electorates, districts, provinces and in Colombo main operation centre before releasing the official results to the nation through print and electronic media," Mr. Deshapriya stressed.

There is no opportunity for election malpractice as the voting, dispatching of votes to counting centres, counting, preparing of election data and releasing results are under the watchful eye of not hundreds but more than thousands of officials at each and every level. Besides all the election related functions have been automated and chances for malpractice is zero, Mr. Deshapriya said and added however, prophets of dooms could make negative and unfounded allegations despite EC's good intentions.

Mr. Deshapriya noted that the EC was able to put an order to procure 12,000 reinforced cardboard boxes at the minimum possible price of between Rs. 2,500 and Rs. 3,000 saving about Rs. 4,000 by each box if boxes were imported.

"When the EC checked the prices of a box of similar features it cost a minimum of Rs. 8,500 each. We are glad that we were able to save several millions of rupees of public money through this extremely transparent and clean transaction," he said.